By Babajide Komolafe
HE started as a clerk in the defunct Cooperative Bank. With hard work, he progressed to become an accountant and a banker, rising to the position of General Manager and later acting Managing Director of the bank. Today, he is an accomplished entrepreneur and investor who uplifts humanity with his philanthropic touch. He is Dr. Ayoola Obafoluke Otudeko, the widely celebrated Chairman of Honeywell Group of Companies.
Born August 18, 1943, Dr. Otudeko is an astute and highly successful investor and entrepreneur. He is renowned for being in the Forbe's list of Africa's 50 richest people, ranking at 33 with a net worth of $575 million as of November 2013. He is married to Mrs. Adebisi Aderonke Otudeko. They have three children, a boy and two girls: Foluke, Moyo and Obafemi.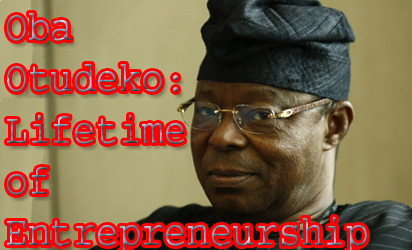 Education and professional qualification
Oba Otudeko studied Accountancy at the Leeds College of Commerce, Yorkshire, United Kingdom. He is a chartered banker, chartered accountant and chartered corporate secretary. He has also attended executive management training programmes at International Institute for Management Development (IMD), Lausanne, Switzerland; Harvard Business School, Boston, U.S.A; and then Arthur D. Little School of Management, U.S.A
Entrepreneurship prowess: To give life to the entrepreneurship gene yearning for expression in his blood, Oba Otudeko in 1972, established the Honeywell Group. His aim was to use the company to sweeten human life, hence the name Honeywell. The company had a humble beginning and operated as a trading concern, importing and marketing commodities such as baking yeast, stock fish, glass and steel rods, among others.
The Group has evolved into a diversified enterprise with businesses in  foods and agro-allied; real estate, infrastructure, energy and services. Through additional portfolio investments, it is also a significant provider of capital to other sectors of Nigeria's economy including financial services, telecommunications and security management. The Honeywell Group today operates ten companies namely Honeywell Flours Plc, HOGL Energy Limited, Pivot Engineering Limited, Uraga Estate, Anchorage Leisures Services, and Pavilion Technology Limited. Others are Broadview, Hogson, Uraga Power Solutions and Honeywell Energy Resources International Limited.
Through these companies, the Honeywell Group employs over 5000 Nigerians, and contributes to human and social capacity development in Nigeria through diverse platforms. These include  the Honeywell Excellence Programme, which  provides a platform for young, intelligent Nigerian graduates of tertiary institutions to hone their business management skills by providing them with a comprehensive and robust training in business management principles, over a-12 month period.
Giving Back to Society: In his quest to give back to the society and contribute to human capacity development in the country, Dr. Otudeko in 2003 established the Oba Otudeko Foundation. Notable contributions of the Foundation include institution of a Central Administration Building for the Olabisi Onabanjo University; donation of an Administrative Block to All Saints' College, Edun Village, Ibadan; donation of a Students' Cafeteria to Bells University of Technology, Ota, Ogun State; endowment of the Centre for Entrepreneurial Studies of the Olabisi Onabanjo University, Ago-Iwoye, Ogun State
A corporate titan: In addition the Honeywell Group, Oba Otudeko has used his entrepreneurship skills to contribute to the growth of many corporate organisations where he has served as  chairman or director. These include First Bank of Nigeria Plc, where he recently retired after 12 meritorious years on the Board of the bank. He was, at various times, chairman, First Bank of Nigeria, FBN Bank (UK) Limited; Airtel Nigeria and Fan Milk of Nigeria Plc. between September 2006 and August 2009, he was the 16th President and Chairman of Council of the Nigerian Stock Exchange. From 1990 to 1997 Otudeko served on the board of Central Bank of Nigeria; Guinness Nigeria Plc, from 1999 to 2003; British American Tobacco Ltd, from 2001 to 2004 and Ecobank Transnational Incorporated, headquartered in Lome, Togo from 2002 to 2010.
Oba Otudeko also served as chairman of the Nigerian-South African Chamber of Commerce (NSACC) and aimed to facilitate investment flows into Nigeria. During his tenure as the NSACC Chairman, the volume of Nigeria-South Africa bilateral trade grew significantly from $16.5 million in 1999 to $2.9 billion in 2010. He was also on the Board of the NEPAD Business Group – Nigeria. He was Chairman of the Business Support Group (BSG) for delivery of the National Integrated Infrastructure Master Plan (NIIMP).
Bilateral trade
In 2013, he was also appointed the chairman of the Digital Africa Conference Exhibition in Abuja, Nigeria.
Recognitions: In recognition of his achievements as an entrepreneur and corporate leader, Oba Otudeko has received several national and international awards. In 2016, he emerged winner of the African Chief Executive Officer, CEO, of the Year award. The previous year, 2015, Otudeko was voted Leadership Newspaper Business Person of the Year. Earlier in 2009, Otudeko was conferred with Entrepreneur of the Year Award at the ThisDay Awards, while Silverbird Television conferred on his the Extraordinary Lifetime Achievement Award.
Furthermore, in recognition of his contributions to the nation's economic growth, Otudeko was awarded the following national honours: Commander of the Federal Republic in 2011, Officer of the Order of the Federal Republic in 2002 and the Member of the Order of the Federal Republic.
Other awards include Honorary Doctor of Science (D.Sc.) from Olabisi Onabanjo University, Ago-Iwoye. Honorary Doctor of Science in Banking and Finance from Crescent University, Abeokuta, Ogun State; Honorary Doctor of Science Degree (D.Sc.) from Ajayi Crowther University, Oyo Town, Oyo State; Entrepreneur of the Year Award at the ThisDay Awards in 2009. Ernst & Young Lifetime Achievement Award; Leadership Newspaper Business Person of the Year 2015; Silverbird Extraordinary Lifetime Achievement Award and recently, the 2016 Africa CEO Forum's Africa CEO of the Year Award.