By  Victor Ahiuma-Young
FEW days ago, members of the Amalgamated Union of Public Corporations, Civil Service Technical and Recreational Services Employees, AUPCTRE, were in Abuja, for state delegates' conference.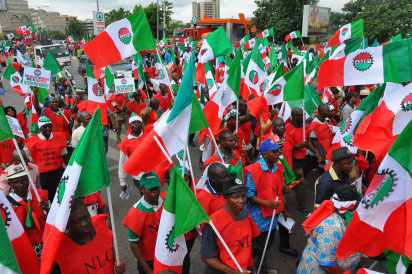 Among issues raised at the conference were consequences of neo-liberalism and globalisation on labour movement.
Addressing delegates and other guests, President of the union, Benjamin Anthony, called on the working class to rise up and check the excesses of political elites that have impoverished workers and their families.
He noted that the main focus of the union at all times remained among others, to continually protect and advance the interests of members in the workplace and by extension, the working class and larger society.
According to him: "The Nigerian society of today is grounding to a halt because the political elites have used primordial sentiments to further divide  Nigerians  for their selfish gains. As a result, the working class has lost its basic ideological knowledge to analyse the society and struggle for better working conditions for workers.
There is the urgent need for every state council to adopt a more functional and worker- focused policies that will assist in advancing our organisational, administrative and industrial relation activities.
Privatisation of Public Utilities
"In Nigeria, the Federal Government policy on water and other commanding heights of the economy is that of Public Private Partnerships, PPP, states like Lagos are busy bringing in companies that have ruined water systems in some countries of the world. Today, the government has extended the PPP to Education and Health sectors.
The contradiction with our leaders of today is that while United Kingdom and United States that have earlier privatised their water more than 30 years ago, are currently taking back water from private hands to public hands, Nigerian leaders are shamelessly pursuing the policy.
This is because the character of the Nigerian ruling class is exploitative and parasitic.  Therefore, as working class, we must wake up to defend the Nigerian people.
"As leaders and workers, we must realise that neo-liberalism and globalisation have done great havoc to workers' solidarity and comradeship. The situation now is that workers  world over and communities have turned against one another.
The scenario today is such that while workers are complaining of under-payment or non-payment of wages, the unemployed youths are being turned into thugs and engage in anti-social activities. We owe it a duty to rise and demand for good governance from our elected leaders.
"Comrades, some of us came into this struggle today not because of what we stand to gain but because we have passion for it. We should work together to re-orientate our minds to re-invent the relevance of the union, not only to our teeming members but to non-members also.
In his welcome address, Acting Chairman of AUPCTRE, FCT Council, Comrade Aliyu Maradun, while informing that the conference afforded members the opportunity to discuss issues affecting members and the union, decried the protracted issue of the new national minimum wage.