•I was attracted by her beauty- father
• I wanted to check her virginity,says another
•I was lured by my granddaughters- septuagenarian
By Evelyn Usman
Often, Nigerians are inundated with strange news of fathers who are supposed to protect their daughters from sexual molesters, only to turn out to be the sexual predators.
These fathers who seem to have brazenly    thrown caution, sense of decency and morality to the dogs, sexually abuse their biological daughters, without  recourse to the emotional and psychological effect of such abominable act on their daughters.
One would have thought that such obnoxious cruelty happens only    in the western world, or Hollywood movies, considering the tenacity with which Nigerians uphold tradition,culture and religion.
But no! Rather, spine-chilling    tales    of little    girls who are daily abused sexually by those they call daddy, ceaselessly    flock the internet, leaving one to wonder what the world is turning into.
With the forgoing, some    mothers, who    used to see relatives, teachers and neighbors as threat to their teenage girls, are now compelled to look beyond their noses.
Most times, victims of fathers turned pedophiles are even toddlers who can only react to the sharp pain of penetration with a shrill cry and an expression of agony which may never be decoded by their mothers.
One of the disgusting cases which left everyone with    a jaw dropping  expression , was that of a father who defiled    his nine -month- old baby who was left in his care.
The incident occurred recently in Ejigbo area of Lagos, after mother of the child, Mrs Nwandu left her baby in her husband's care, to get some food stuff at Orilowo area of Ejigbo.
Barely had she stepped out than the baby started wailing . An anxious neighbor who was washing clothes behind her window, peeped through the Nwadus window to ascertain the cause of the baby's cry, only to discover to her shock, that the child was being sexually abused by her 45—year-old father.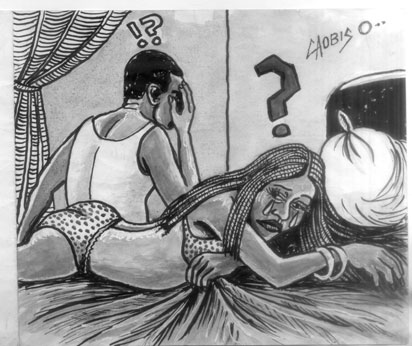 Unable to conceal this, the neighbor told Mrs Nwadu on arrival to change her baby diapers, only to discover that it was stained with blood.
In this case, one wonders what sexual pleasure Mr Nwandu intended to derive. On getting to the police station, he simply blamed his indulgence on the devil.
On January 18, 2018, one    Segun Durojaiye, was arrested for allegedly raping  his 16-year-old daughter. In this case, the victim revealed that her father had been having canal knowledge of her since 2014 and that she had aborted over three pregnancies in the process.
Hers    was a double jeopardy, as her father's immediate younger brother, who lives close to them in Ikorodu area of Lagos , had secretly been    sleeping with her, during her brief stay with    him , after the demise of her step- mother, at age 12.
Her    father, however took over, after she reported the sexual assault    on her by her uncle, instead of reprimanding his brother.
Saturday Vanguard  findings revealed that    some of these pedophiles who hide under the cover of fathers, take advantage of the absence of their wives, particularly when the marriage breaks up.
In Makurdi, Benue state, a 40-year-old father was arrested in 2015,    for allegedly defiling his 11-year-old daughter. The randy father was arrested after a neighbor who heard the cries of the girl, sneaked into his compound to know what was wrong, only to find the suspect in the sacrilegious act. .
Upon interrogation, the little girl disclosed that    her father usually slept with her anytime    her mother was away from home.
Again, on February 16, 2018 an Ikeja Chief Magistrates' Court    remanded a 45- year -old father, Moses Udoh, to Kirikiri Prison over alleged rape of his 15-year-old    daughter, after a visibly angry    Chief Magistrate T. O Shomade refused to listen to the accused plea.
The accused, an unemployed man who resides at 45, Osundiya St., Meiran, a Lagos suburb, was caught red handed by his wife, who subsequently raised the alarm.
IBADAN
In Ibadan, Oyo state capital, a 45-year-old carpenter, Olumide Akinleye, was arrested and charged to court for having carnal knowledge of his 18-year-old daughter, in their one-room apartment. Unable to bear the molestation, the victim confided in her father's friend, who raised the alarm.
For minors between the ages of 2 and 10,    their fathers    lure them with toys , cookies    and money, with a stern warning for them not to reveal the act to anyone.
IKORODU
This despicable act    reached its crescendo when a 43-year-old man, Olusegun Adefemi , was alleged to have sexually abused his three daughters of ages seven, five and three, at Ijede area of    Ikorodu , Lagos.
In this case , the youngest of the children narrated when asked that " daddy always hurt me here( pointing to her virginal) while the older ones alleged that their father also engaged them    in anal sex.
Why we impregnate our daughters
As if    sleeping with their daughters was not enough sacrilege, some fathers have gone a step higher to impregnating their biological daughters . While some aborted the pregnancies, others however, gave birth to the seed    planted inside them by their fathers.
As you read this piece, a teenage girl, Mary , is five months    pregnant for her 44-year-old father, Mr Viashima Titus Ukegi. Mary's mother, late Celillia,    as gathered died while delivering her in 2001. Since her death, her father assumed the dual    role of a mother and friend, until the unexpected happened. The act continued until she discovered    she was pregnant.
When asked why he slept with his daughter, Ukegi said "    I thought I was sleeping with my late wife because she(daughter) is a carbon copy of her. She has a very good shape that reminds me of my late wife.    I was carried away by her beauty and  was feeling bad that one day, somebody will enjoy her, so I decided to take my own share, which unfortunately,    resulted into pregnancy.
"I    would have told her to abort it had she informed    me on time.    I took    her out of the village to Kadarko, enrolled her in a fashion school until she was delivered of the baby",    said the Nasarawa state born
10yr old girl    impregnated by father
Another case that left everyone astonished was that of a 10 year-old girl who alleged that her father was responsible for her pregnancy. Her father, Kenneth Abuja, was charged before the Ikeja Chief Magistrate Court on December 12, 2017 , on a count charge of defilement.
He was alleged to have regularly abused his 10 year -old daughter at his Idimu road, Egbeda home and also    threatened to kill her if she opened up to anyone. The burble burst after her mother noticed changes in her .
Makurdi
Also in    Makurdi, Benue state capital, a    42-year-old man, Akate Thomas, was charged to court for allegedly raping his two daughters between    ages 10 and 12 respectively. In the process of which    the older one got pregnant.
Kano
In August 2017 in Unguwa Uku, Kano, a father    who was alleged to have been sleeping with his 14-year-old daughter, got her    pregnant. The girl during interrogation revealed that she had aborted thrice for her father. In this case, the suspect blamed his action on the devil.
Lagos
A 34-year-old man, Kennedy Michael, was arrested by the Lagos State Police Command two years ago, after his 13year-old girl revealed that she was pregnant for him. In her starling confession, she disclosed that her father started sleeping with her right from when she was in primary 5. When asked why, the suspect    kept mum, staring at this reporter.
Also in Lagos, a 48-yea-old father,  Adeboye Waheed, was arrested by policemen attached to Zone 2 command, Onikan, for allegedly defiling his daughter and got her pregnant. The suspect as gathered, crept to where his Senior Secondary School 1 daughter was sleeping on the floor of his one room apartment and started fondling her private part. When she woke up, he told her that he    wanted to insert his manhood into her to ascertain if she was    seeing her monthly menstrual flow. After the sexual abuse, his 14-year-old daughter stated that her father gave her some condom to keep , adding that he had her about two times again, before she fled the house and reported the incident to her pastor.
When approached, Waheed said: " Police, journalists, forgive me; I don't know what came over me. I have been beaten thoroughly by Oodua People's Congress (OPC) boys; that is why my eyes are swollen."
I slept with my daughter out of frustrated
For  41- year-old    Raymond Anyanwu, who was arrested by the Lagos State Police Command, for impregnating his 15-year-old daughter , in 2016 , he blamed his action on frustration.
He said: "I started sleeping with my 15-year-old daughter sometime in January, after I lost my job. I am a transporter but I took to alcohol after I lost my job and could not meet up with my responsibilities as the head of the house"he said
When his act was exposed, Anyanwu beat up his wife and warned her not to mention it to anyone.
Its a normal thing
Same year, in a brazen display of ignorance to the legal implication of his action,      a    44-year-old man , Emmanuel Udoh, who was arrested by the Lagos state police command, for allegedly having sexual intercourse with his daughter at Meiran area of Lagos State , told policemen that the act was a normal thing.
The native of Ini Local Government area of Akwa-Ibom who was separated from his wife,told policemen during interrogation that "    I    have had sexual intercourse with my daughter several times.    It is a normal thing and I don't see anything bad in sleeping with her because I know she will not get pregnant.    I don't ejaculate inside her".
Three month later, a 48-year-old    Nigeria-based Ghanian, identified simply as    Agyeman, was allegedly caught by residents of Agbado-Okearo area of Ogun state, while    having canal knowledge of his 14-year-old daughter.
The shout for help from his daughter alerted neighbors who rushed to find out what was happening, as she was expected to be in school at that time. . But to their dismay and consternation, he was reported to have told the inquisitive neighbors to leave him to enjoy his daughter.
According to report, he said: " I have    every right to have sex with my daughter, after all I am the one that    gave birth to her and have been taking care of her."
His    Junior Secondary School 2 daughter on the other hand, was elated as she disclosed that her father had on several occasions threatened to kill her if she told anyone about it.
I was drunk
Last month at Abaranje area of Ikotun, a Lagos suburb, a Junior Secondary School 3 girl who was impregnated by her father, a widower,    was delivered of a    baby. She disclosed that her father took her to a herbal home on discovering that she was pregnant.
Her 40-year-old father, Domnic Johnson,      a commercial    motorcyclist, according to the young nursing mother, begged her not to reveal the paternity of the pregnancy to any one.  However, trouble started after she confided  in one of    her aunts , who subsequently reported to the police at the    Ikotun division. During interrogation, Johnson admitted to have slept with his 14-year-old daughter once.
According to him: " On that day, I was drunk and wasn't in control of my senses and actions. I didn't know what I was doing when I slept with my daughter. My wife is late and I have been the one taking care of my three children. I am not happy about what    happened.
"When she told me that she was pregnant, I took her to a herbalist home because she is very young. I wanted them to take proper care of her, so that she would deliver safely."
I enjoy sex with my daughter
Everyone at the Ikeja Magistrate's court, in Lagos, was stunned two months ago after    a man, Kenneth Abaya, who was arraigned , for allegedly defiling his 10-year-old daughter, did not only admit to committing the crime but also said he derived pleasure 'doing it' with her.
The sexual assault on the minor as gathered , continued until she got pregnant and revealed that her father was responsible.
Abaya, who submitted a not-guilty plea in light of the allegation was granted bail in the sum of N500,000 and a surety in like-sum, while the court  is expected to rule on the matter on Monday, May 14, 2018.
It was diabolic attack
In one of the cases in Oyo state, a 43-year-old man,  Gafar Hamza,  who was arrested for allegedly impregnating his 20-year-old daughter, denied the allegation.
To the astonishment of all, he admitted that he had slept with his daughter four times but denied paternity of her pregnancy.
He said: "  "It is true that I slept with my daughter, but I started with her when she returned to my house in February this year. I think it was a diabolic attack from my enemies who do not want my progress in film making.
  I only slept with her four times. I am not sure who is responsible for the pregnancy because she has other boyfriends. The first time it started, she came in to greet me one morning and the next thing was that I saw her getting up beside me. She told me she was seeing her menstrual cycle twice a month.
I don't want her to have an abortion. Anyone who aborts is a murderer. She should deliver the baby so that people would know that I am not likely to be the father of the baby. And if I happen to be the father, proper punishment should be meted out to me.
I was not even the one who deflowered her. My son caught us in the act twice. The first time, I was on top of her and the door was not locked. My son came in and saw us. He greeted me and asked for money for his breakfast. My daughter and I were naked. I had already withdrawn from my daughter when he caught us the second time,"  he confessed.
Victims suffer battery too   
Some fathers sometimes, took to battering their daughters, especially when they put up any resistance or threatened to reveal the abominable act to anyone. At times, some of them resort to leave their homes , an action that eventually led to some of the arrest , while others chose to allow fate take its course.
A vivid instance was that of a 14-year-old girl,   Titi, who gave a heart rending confession of how she was repeatedly raped by her father, a commercial bus driver. As if that was not enough, she disclosed that whenever she refused, he would beat her until she yielded to his demand.
The Junior Secondary School 2 student who stated that she was left in her father's custody after her parents separated, disclosed that her father slept with her at will, including at his friend's place.
Unable to bear the abuse , she raised alarm while being battered by her father.
But during interrogation, her father said : "  I only slept with her once. I have realised my mistake and I promise I won't do it again."
In other cases, some fathers procure drugs for their children either to abort pregnancies , or to prevent them from getting pregnant as long as the act continues.
Last month, the Police in Lagos arrested a    middle-aged man, Uchenna Ehumadu, who had been on the run after he was declared wanted for allegedly raping his 15-year-old daughter and giving her drugs to prevent pregnancy.
The suspect as gathered, usually woke his teenaged daughter from sleep at night, particularly on days when his wife is on night duty.
In a similar development, the Lagos state Police command also arrested a 36-year-old man,  Kennedy Michael, for allegedly impregnating his 16-year-old daughter,  Maria, and conniving with his girlfriend to terminate the pregnancy.
A statement from the Command, alleged    that the Akwa Ibom State born suspect who is separated from his wife, started   having carnal knowledge of his daughter right from when she was  14-years-old , until she got pregnant at 16.
The suspect in the company of his girlfriend,   Ijeoma Ndukwe,    took her to a clinic and aborted the baby. The burble burst after a neighbor who got wind of the abortion, reported to the police. During preliminary investigation, it was discovered that the suspect had allegedly defiled the neigbour's    18-month-old baby.
My grand daughters lured me- 75yrold
One o f the cases of pedophiles that kept people wondering if children were safe in the care of grannies, occurred in Bukuru , Jos South Local Government area of Plateau state , after a 75-year-old man was accused of defiling his grandchildren of ages 11 and 14 respectively.
The suspect who was paraded by the police was alleged to have had carnal knowledge of the children several times.
According to the suspect, Choji:    "I know I have done wrong but the girls lured me into it.. I am a married man with grown up children but the little girls tempted me and made me have sex with them. They have    been on my neck because they derive satisfaction in sleeping with me and I had no choice but to satisfy them. I slept with them several times but when I realised it was wrong, I decided to stop doing it. They went to report me to their mothers when I told them to stop coming to my house".
LASG sets up special sexual offenses court
Recently, Lagos State Government set up special court for  sexual offenses    with a view to avoiding delays in the prosecution of sexual crimes.