The Police on Wednesday arrested suspended lawmaker, Sen. Ovie Omo-Agege (APC-Delta) at the National Assembly Complex over the Senate mace snatching saga.
The Commissioner of Police, Federal Capital Territory (FCT), command, Mr Sadiq Bello, led the team of policemen, who arrested the senator and whisked him away in a Hilux van with registration number NPF 840 at about 1.50 p.m.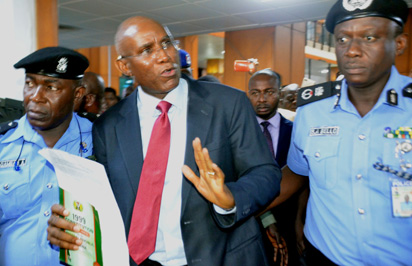 Before he was taken away, Omo-Agege had told the police that the court had pronounced that the National Assembly "and specifically the Senate, has no power to suspend a senator for one day.
"I can't be under arrest; for what purpose?''
Omo-Agege who was sighted in the Upper Chamber during the day's plenary, was apprehended when he stepped out at the end of the session.
The Senate had on April 12, suspended the lawmaker over an alleged "dissenting comment'' on decision of the chamber on adoption of conference report on INEC Act (2010) Amendment Bill.
The suspension, which would last for 90 legislative days, emanated from the report of the Committee on Ethics Privileges and Public Petitions presented at plenary.
Presenting the report, Chairman of the committee, Sen. Sam Anyanwu, said the committee's probe followed a Point-of-Order raised by Sen. Dino Melaye (Kogi-APC) on the matter.
According to Anyanwu, Melaye drew Senate's attention to a media briefing by Omo Agege, faulting senate's adoption of the conference's report on Feb.14.
He said that Melaye further intimated the senate that the media briefing by Omo-Agege indicated that the resolution of the senate was targeted at President Muhammadu Buhari.
Anyanwu added that following the committee's investigation into the matter, it was resolved among other things, that Omo-Agege be suspended for 181 legislative days.
The recommended suspension was later reduced to 90 legislative days by the President of the Senate, Dr Bukola Saraki, while giving his remarks on the issue.
With suspension, Omo-Agege was expected to stay from the national assembly, but his appearance at the assembly, and indeed, the Senate chamber, was against Section 22 of the Senate Standing Order (2015) as amended.
The section states that "a member of a Legislative House who has been suspended from the service of that House shall not enter or remain within the Chamber or precincts of the House in contravention of this section.
"He may be forcibly removed therefrom by any officer of the House and no proceedings shall lie in any court against such office in respect of such removal.''
Meanwhile, it was gathered that the lawmaker came into the national assembly at the time suspected hoodlums invaded the Senate chamber and made away with the mace. (NAN)