Lagos – Activities at the Lagos University Teaching Hospital (LUTH), Idi-Araba, Lagos, and Federal Medical Centre (FMC), Ebute-Meta, were crippled on Wednesday as the nationwide strike embarked upon by the Joint Health Sector Union (JOHESU) commenced.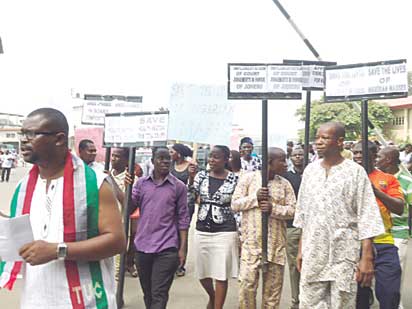 The group, with membership drawn from five affiliate unions, is asking for the immediate implementation of the agreement signed with the Federal Government.
The unions include the National Association of Nigerian Nurses and Midwives (NANNM), Nigeria Union of Allied Health Professionals (NUAHP) and Medical and Health Workers' Union (MHWUN).
Others are Senior Staff Association of Universities, Teaching Hospitals, Research Institutes and Associated Institutions (SSAUTHRIAI) and Association of Medical Laboratory Scientists of Nigeria.
JOHESU members are demanding for a good salary structure, payment of outstanding salaries as well as uniform allowances among other demands.
Correspondents of the News Agency of Nigeria (NAN), who visited the hospitals, report that only resident doctors and consultants were seen attending to some patients on admission..
Mr Johnson Shaba, Chairman of JOHESU, LUTH Chapter, told NAN that the efforts made through several committees to get the Federal Government to implement the agreements reached upon were unproductive.
Shaba said that in spite of the 30-working day ultimatum given to the Federal Government, it had yet to satisfactorily address the pending issues.
"We are also not happy about the strike but we are fighting for our rights and demand of service.
"Other health professionals went on strike and they were attended to within two weeks.
"I believe there should not be any partial or biased mind in the health sector because we all should be treated as one.
"So, we plead with Nigerians to bear with us as we were left with no other option than to take our destiny in our hands,'' Shaba said.
Also speaking, Prof. Olufemi Fasanmade, Chairman of the Medical Advisory Committee (CMAC) at LUTH, said that the management of the hospital was aware that members of JOHESU were on a nationwide strike.
According to Fasanmade, the management of LUTH has made arrangements to work with the available manpower, along with qualified medical volunteers.
"There are many patients still in the wards and we are managing to care for them with the limited staff we have.
"We are also managing emergency services to those requiring such.
"We regret any inconveniences the strike will have on our esteemed patients while hoping that the issues which precipitated the strike will be resolved soonest between the Federal Government and JOHESU,'' he said.
At the Federal Medical Centre, Ebute Meta, Lagos , activities appeared normal as some patients were seen being attended to by doctors.
The management of FMC was, however, not available to speak to NAN on the issue.
Mrs Adebola Adetunji, a patient at FMC, called on the Federal Government to look into the situation as soon as possible and ensure that JOHESU's demands were met.
"Health workers going on strike in this age and time is a big problem; government should please respond to them before this will get out of hand.
"How can these doctors cope with this situation?
" If we are clamouring for quality healthcare and health workers are still going on strike, then it will be very difficult for us as a nation to achieve that,'' she said.
Also speaking, Mr Joseph Odibo, another patient, told NAN that strikes by health workers should be avoided in the interest of patients.
"Strikes in health institutions should by all means be avoided because it is very dangerous; people's lives are involved, so it is very critical.
"We want the government to act fast on this issue; we are spending long hours before we are attended to because only few doctors are attending to many patients,'' he said. (NAN)
AOI/OKG/VIV/OJO