By Simon Ebegbulem
BENIN—All Progressives Congress, APC, in Edo State has said that the leadership of Peoples Democratic Party, PDP, in the state was angry over comments by the immediate past governor of the state, Mr Adams Oshiomhole, on the looters lists because ¨The names of some of the leaders of the PDP in Edo State will soon be published."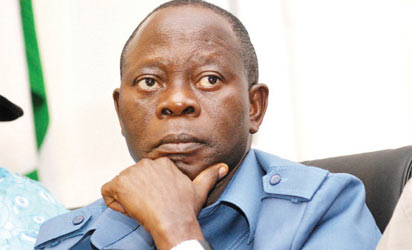 Oshiomhole had urged the Federal Government to be ruthless with looters who allegedly looted the treasury. But his comment elicited attacks from the state PDP.
Reacting, yesterday, the state APC, through its secretary, Lawrence Okah, described as unfortunate "The lies we read in the papers by the PDP against the leader of our party in the state. Most of the words used were quite libelous and we are looking into them before we will take action.
"It is sad that because of politics, Edo PDP has failed to thank Oshiomhole for revamping the state after they destroyed it in 10 years. The PDP government retrenched thousands of workers in Edo State without paying them gratuities and pension and it was only when Oshiomhole came that the workers started getting their payment and that is why today, we seem to have issues about the payment of pensions because it ran into billions of naira.
"All the roads that the PDP leaders are using today including the ones in the village of their chairman,  Dan Orbih, were constructed by Oshiomhole and yet because they are shameless, they are still talking.
"But we feel sorry for them because we are aware that most of them were involved in the looting that went on during the last fedral administration. And very soon some of them will go for it because the list of looters has started coming out.
"We are aware that before the governorship poll in 2016, some of them were visiting the EFCC and the matter is still on. So that is why you see them crying over Oshiomhole´s comment. Oshiomhole did his best for our state and it was the foundation he laid that Obaseki (Godwin) is building upon.
"That is what annoys the PDP and if they like they can abuse Oshiomhole who God has blessed till tomorrow, Edo people will never accept them again in this state. They are down and out and that is why they are frustrated," he stated.