By Chidi Nkwopara
OWERRI—FORMER Deputy Speaker, House of Representatives, Chief Emeka Ihedioha, says he is disturbed at the way "dreams and ideas of Nigerian youths are brazenly frustrated on the altar of the Nigerian environment."
Chief Ihedioha, made his feelings known in a keynote address he delivered at the inauguration of the Coordinator, Zone B, National Association of Nigerian Students, NANS, at the Federal University of Technology, Owerri, FUTO.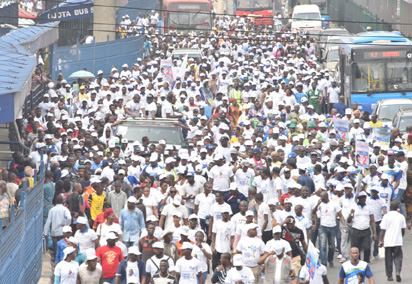 "The indices of success recorded by youths in other climes would be terribly less, had they been confronted with similar Nigerian environmental realities," Ihedioha said.
He identified insecurity, epileptic power supply, high inflation, devalued Naira, bitter bank interest rates, poor economic policies and deficient infrastructural base as some of the challenges facing the Nigerian youths.
"It is my recommendation that governments at all levels and arms, must wake up to their responsibilities of providing necessities for business and economic relations to thrive", Ihedioha said.
It was his considered opinion that youths must be accorded a prime space in the national development infrastructure. "This is the only way Nigeria as a nation can consolidate the onerous path to nation building and greatness. To achieve this, the youths must be properly equipped through the attainment of qualitative education and inherent sophistication handed down by scholars imbued with profound intellect", Ihedioha said.
While saying that "as leaders of  tomorrow, youths occupy a critical place in nation building", Ihedioha however reasoned that "for them to play that role effectively, there must be a formal process of socialization that prepares them for the onerous task of leadership".
Continuing, Chief Ihedioha said that no nation has ever attained greatness without fully harnessing the energy, resourcefulness, creativity and ingenuity of youths, stressing that "there can be no resourceful, creative and skillful youths without quality education".
He then announced full scholarship for 10 students union leaders from various universities across the nation.