Dear Bunmi,
My fiance told me out of the blues that he needed a break and just wanted us to be friends for a while.
He has two kids and says life is just too busy for him and he doesn't want to be 'romantically involved' with anyone.
He then virtually stopped visiting and calling. We have been together for over two years and planned to get married this year. I'm a complete wreck.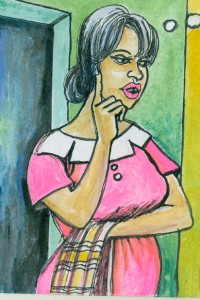 I'm a single mum, who has raised kids on my own so, I fully understand what busy means.
What I don't understand is that up until two weeks ago, he called me several times a day and always told me that he loved me. His mother confessed he didn't understand her son either.
Yesterday, I heard he'd been out with another woman. He told his mum she was just a friend from school who had brought her child over to watch movies with his kids.
My problem is, I can't get him out of my mind. I know that distance and time will make it better, but how do I handle it when he calls me to talk? And he will call – it's just his style. I don't want to sit waiting for him to call. I can't do it. It's too painful.
So what would be the best thing to tell him when next he rings me?
Kanyinsola, by e-mail.
Dear Kanyinsola,
You're sending mixed messages here. You say you're not going to wait, then you're obsessed about what you'll say. The best thing for you to do is to embrace his lack of contact. And keep away from his mum too. She may not mean it, but she's doing you no good.
You know that time and distance will heal your wounds, so let them do their work.
If he calls, he calls. If not move on – and let him know you wouldn't be at home twiddling your thumbs waiting for him to call.