By Peter Duru
Makurdi – Less than 48 hours after two Catholic Priests and 17 worshipers were killed by suspected herdsmen at Mbalon in Gwer East Local government area of Benue state, the marauders late Tuesday night and early Wednesday launched a coordinated attack on three communities in Guma local government area, killing no fewer than 39 persons, injuring scores and razing over 160 houses, huts and farmlands in the communities.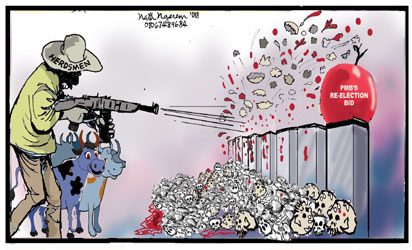 Vanguard gathered from sources in the affected communities that the death toll could be higher as more bodies were being recovered from communities.
Among the communities and villages affected in the attack were Tse-Umenge, Mbadwen council ward, Mbakpase, Saghev council ward and Tse-Ali, Mbawa council ward.
Confirming the attack on his village Tse-Umenge a retired Permanent Secretary in the Benue state service, said close to 50 houses were burnt in his village by armed herdsmen.
He said, "in my village Umenge they did not kill anybody because the people had already fled but they raised over 50 houses.
"But in the council ward itself over 15 persons were killed in the attack which commenced late Tuesday till early Wednesday, though the number might increase because the search for more bodies is still ongoing."