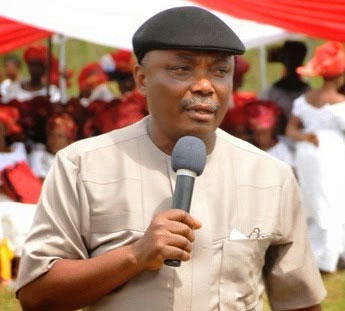 Peter Nwaoboshi
By Nwafor Sunday
The Coalition of Niger Deltans for the Defense of Democracy, (CNDYDD), has on Monday called on the Economic and Financial Crimes Commission, EFCC, to release the Senator representing Delta North constituency, Peter Nwaoboshi, arrested by the agency earlier this week.
Recall that Nwaoboshi was arraigned before a Federal High Court sitting in Lagos by EFCC, over alleged fraud and money laundering.
Newsmen learned that EFCC prosecutor, Mr. M. Salisu Abubakar, said that the senator purchased Guinea House, Marine Road, Apapa, at the sum of N805million, knowing that the sum of N322million out of the purchase price forms proceeds of fraud.
But in a press statement signed and made available to newsmen on Wednesday, the group described Nwaoboshi's arrest as ill-motivated, draconian and utterly unacceptable to the good people of the Niger Delta.
"As far as we are concerned, the only reason Senator Nwaoboshi is presently undergoing these trials is as payback for his refusal to kowtow to evil plans to level the Niger Delta under the pretext of looking for Niger Deltan Avengers.
"At that time, Senator Nwaoboshi proved his true mettle as a great pan-Niger Deltan leader, patriot and activist politician to the extent of sticking out his neck to defend the rights of our region against the triumphalist machinations of our detractors.
"We are proud to note that Senator Nwaoboshi has always spoken up for the entire Niger Delta and it is now our turn to speak for him", parts of the statement read.
The group further stated that former president Goodluck Jonathan's administration never attempted this and urged the federal government led by President Myhammadu Buhari to caution the anti-graft-agency, to desist from further embarrassing distinguished senators.
"Nothing even remotely resembling this utter insanity was ever attempted by the President Jonathan administration and it is becoming increasingly clear that the All Progressives Congress, APC, has clearly lost it".
Read parts of the statement as jointly signed by Sugar-boy Debekeme,  Ochuko Egben, Elvis Uzor, Osaze Amieke, Paulinus Offiong, Norbert Eke, Weyinmi Tietie, Anthony Wigwe, Mamuzo Adaka, Priye Godstime, Ehis Unah, Ejiro Pender, One-Bone Marshall, Odion Areghan below:
"To that end, we wish to clearly state that we are not at all impressed by the allegations the EFCC has levelled against Senator Nwaoboshi.
"In short, the EFCC has miniaturized into a mere enforcer for the APC, targeting those who refuse to capitulate and join the ruling party while studiously ignoring the real thieves who have now joined it for protection.
"This was how our eminent brother Tompolo was hounded like a common criminal into exile and our most distinguished First Lady, Dame Patience Jonathan is being tormented right left and centre when all living former First Ladies are walking free even though we are still being paid untold loots from Switzerland and elsewhere.
"Shame on the EFCC for pouncing on a Senator of the Federal Republic simply because he is in the opposition, remains a staunch supporter of Senate President, Dr. Bukola Saraki, stands up to defend the Niger Delta, and continues to demand justice for our region in his capacity as a South-South Senator and Chairman, Senate Committee on the Niger Delta.
"We accordingly alert the international community to the dangerous trend that is already unfolding whereby Nigeria is gradually being turned into a one party state in which leaders of the opposition are being hunted down while anyone who decamps to the APC is given a clean bill of health and treated like a saint by state institutions tasked with fighting corruption.
"EFCC or no EFCC, our true son of the Niger Delta, Senator Peter Nwaoboshi is returning to the Senate to fight our cause and defend our rights!".