Niger Delta Conscience Team (NDCT) has called for unity among Niger Delta youths while commending the appointment of Hilda Dokubo Mrakpor as the Personal assistant to the Amnesty Coordinator, Prof. Charles Q. Dokubo.
The group in a statement signed by its Coordinator Michael Oweikpodor and Publicity Secretary Comr. Lugard Izoukumo, stated that "We are shocked that some of our Niger Deltan patriots can be used by political elites to derail someone who is competent and has the clouts to usher professionalism into the Amnesty Programme.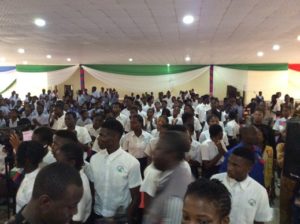 The statement read, "we therefore advises our fellow compatriots to drop their differences and support the appointment of Hilda Dokubo, as she forthright and very much capable to discharge the mandate given to her.
"Having served in the capacity of a special adviser on youth affairs to the Former Governor of Rivers State ,Peter Odili, we believe she is more competent and qualified to do the job amicably.
"We are calling on our brothers who are being used as agents of distraction and division in Ijaw Nation to desist from such acts".