This report which ran penultimate Friday and Saturday continues today with more highlights of the hazardous effects of gas flaring on Niger Delta inhabitants.


NOBODY lives up to 80 years in Mkpanak – Edak Bassey, community leader
In Mkpanak, mud and thatch houses are everywhere despite sitting on a huge deposit of hydrocarbon which translates to wealth. Because of the peculiar terrains of Mkpanak, several attempts to sink public water system have failed to yield positive result, hence the people resort to otherwise polluted streams and rain waters for drinking, cooking and other domestic chores. The result is the adverse health-related ailments they frequently suffer.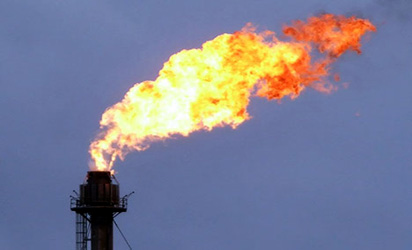 A middle aged man who lives in a  thatched house in Mkpanak, a few yard away from the flare point, was battling with swollen legs called elephantiasis and he spoke with strain. Outside, half-clad children were running around in the dirt totally oblivious of the danger of gas flare in their midst.
A community leader, Elder Bassey EdakBassey, said the American oil firm has turned deaf ears to their cry for help, describing the firm's attitude as the height of corporate social irresponsibility to host communities and government's insensitivity to the suffering of its citizens. He talked about impact of the pollution which includes quite a number of health-related ailments which impoverish the people and shorten their life span.
He listed the sicknesses affecting them in the community to include tuberculosis, typhoid, skin diseases, stroke, elephantiasis, among others, stating that nobody lives up to the age of 80 years in the community.
Villagers go to hospital daily – Eyoh Essien
Corroborating him, Vice President, Mkpanak Kingdom, Elijah Eyoh Essien, recounted how they hardly sleep in the night due to tremors which he noted have cracked the walls of so many houses and affected the foundations. He said: "Apart from the health issues arising from the polluted environment, we are supposed to enjoy amenities here, but the gas flare has destroyed our roofs and the water we depend on for livelihood is badly affected. And that is why we go to the hospital on daily basis and the company does not do anything to assist us."
Ibeno LG boss weeps
Chairman of Ibeno local government area, Pastor Ifum Henry Udoh, however, expressed dismay over the persistent gas flaring and the inability of the government to stop the menace despite several promises to bring it to an end. "I do not know why Exxon Mobil has refused to stop gas flare. The company is working against the interest of our people and the government needs to do  something to address the dire situation because our young people die prematurely. The chemicals dropping from the gas flare are dangerous to the body. They affect the water."
Fishermen also cry
In Utan Iyak, a fishing settlement on the estuary of the Atlantic Ocean in Mbo Local Government Area, fishermen bemoaned about depletion in their daily catch and loss of fishing gears to oil spills and the prevalence of water- borne diseases in the riverside communities due to acid rain water.
They claimed that several oil platforms belonging to the Exxon Mobil and other marginal oil companies are located in the area and have caused major health and environmental hazards to them, thus depriving them of the means of livelihoods. "We are really suffering here in Mbo. We are facing serious health challenges. We have itching on our bodies and our children are always having diarrhea as a result of impure water. When it rains, the water we drink here is always black and dirty with particles," Etim Eyoh, a local fisherman said.
In Esit Eket, women complained of stunted crops growth which has affected their harvest and consequently reduced their profits and which could lead to food shortage.
I can't remember how many times I changed my roof – Orojan
Chief Okon Orojan from Iko Town in Eastern Obolo local government area said since he returned home after retirement, some years ago, he could not remember the number of times he had changed roofing sheets of his house. "This is my house and I have changed the zinc so many times. When Shell BP first came here to start their operation in 1976, they promised that they would build a modern village for Iko town. Even other things they promised to do to improve the life of our people, have not been done. And the issue of gas flaring disturbs us a lot because if you build a house and you roof it with zinc, within a short time, say about 10 months, the zinc will be destroyed,"he disclosed.
We complained
According to him: "We complained and they came and built one small hut,brought a rabbit and put inside the hut. They said if the gas flaring was what was destroying the roofing sheets that the rabbit would die. And the rabbit they brought died. So we are appealing that something be done about it to lessen our suffering."
We are suffering – Michael, Iko youth leader
A youth of Iko town, Mr. Samuel Michael, stated: "Here in Iko Town, people are suffering because of this gas flaring. Some people who do not have money to continue to change the roofing sheets of their houses now resort to using thatched roofs. And you know our major occupation is fishing. Such thatched houses are not encouraged because they can easily catch fire, especially during the process of drying fish. And Aluminium zinc is too expensive now. It is only few rich people in our communities that can afford it. Iko town has seven villages and as you look around you can see that almost all the houses are affected except few with aluminium roofs."
We change roofs every year – Ukot  
An angry landlord, Mr. Johnny Ukot of Market Road Upenekang, said: "Some people came and counted the number of affected houses, but later I heard that they came and selected some buildings for compensation but they did not come to Upenekang. I did not want to respond to your questions because I am angry. When the time to pay compensation comes, our area will still be forgotten.
"Even last year, there were people that came and counted the houses and assured us that compensation will come but nothing has happened. The whole of this area is affected. If you buy new zinc in this March, before next year it will rust. I changed all this rusty zinc you are seeing now few months ago. Those opposite the road were changed last December, but before December, this year they will all be destroyed completely.
"If it rains now you will notice that the roofs are all leaking. I do not have the money to change them now. And except you do aluminium roofing, you will always be troubled. We change roofs every year. One year is the maximum it can last.  Some people that have money use aluminium zinc and it is not everybody that can afford that because it is too expensive."
Doctors flee hospital because of gas flare — Village head
Village Head of Iwuokpom in Ibeno, Chief Sunday Okon Akpanowong, urged the Federal Government to fish out top government officials and politicians hiding the truth of negative impact of gas flaring and attendant acid rain on the people. "Mobil started flaring gas here in the '70s, both offshore and onshore. And another company, Network Exploration, came in here about five years ago; Ibeno is suffering it adversely. Many are suffering from constant coughing, lungs problem, heart failure.
"Stroke is very rampant here in Ibeno because the air we are breathing is not clean. People are dying every day. It is so high that medical doctors deployed to a cottage hospital built by former governor, Godswill Akpabio, do not stay. And that is why you do not see doctors when you go there."
Oil companies never own up in Nigeria – Nduese, ex-Minister
Former Minister for Lands, Housing and Urban Development and Atta of Ekid, Chief Essien Nduese, told Vanguard INSIGHT: "The effect of gas flaring on oil producing communities is very well known but oil companies will not accept it because of the financial implication. Other oil producing countries do not flare gas. In Nigeria maybe it is because the effect is only on oil producing minority communities while the larger Nigerian communities ignore it in collusion with oil companies. They allow oil producing areas to suffer while they continue to enjoy the proceeds."
A'Ibom commissioner calls for urgent measures
Akwa Ibom Commissioner for Environment and Mineral Resources, Dr. Iniobong Ene Essien, said gas flaring was a Federal Government issue and that it has signed into the Paris Protocol on Climate Change, which aims to reduce gas flaring and emission by 2030. According to him, current statistics show that four to five percent forest cover-carbon zinc- has been lost to encroachment by the would be developer and oil companies and called for urgent steps to be taken to address the problem.
He stressed the need to follow in the steps of some Western countries which have already adopted clean energy source and technology and called for concerted actions to be taken to stop the flaring of gas in the region. "One way of reducing emission is first of all looking at stopping carbon as source of energy. That includes firewood, tree felling which is quite rampant. By felling the trees, you are destroying the forest which is the major source of carbon in our environment. We are taking steps to ensure that the trees are being replaced and the time to act is now so that we don't lose cover."
Oil firms wash off their hands;  regulatory agencies examine our operations, says Mobil
Responding to why the company has not stopped gas flaring, Manager Media and Communications of Mobil Producing Nigeria, Mr. Oge Udeagha, said Mobil Producing Nigeria has been, and continues to be, committed to the identification and implementation of viable methods to utilize or commercialise gas in an effort to eliminate routine gas flaring from the fields the company operates in.
He said: "MPN's approach to gas utilization and flare reduction has been to extract natural gas liquids for sale and inject produced gas to maintain reservoir pressure, as well as install higher efficiency flare stacks. For the past several years, the company has invested millions of dollars in implementing mechanisms to help significantly reduce gas flaring.
"Additionally, MPN and its partners continue to progress the Qua Iboe power project, which comprises a nominal 540-megawatt gas-fired power plant, a transmission line and an offshore pipeline to supply natural gas from the joint venture's offshore production facilities. The project is part of an integrated plan to increase gas utilization and generate power in Nigeria. The company endeavours to reduce flaring even further through future projects and operational efforts, which include existing flaring protocols and improving equipment reliability.
"To commission these projects on a timely manner and realise flare reductions, MPN relies on a cooperative approach with our joint venture partners in order to maintain funding, enhance security, and improve the overall infrastructure for gas utilization. It is important to note, however, that legal and regulatory barriers remain that hinder efforts to further commercialise gas in Nigeria, and these also impact the pace of additional flare reduction in the country.
"Since 2015, MPN has been conducting routine Gaseous Point Source Emission Monitoring, including flare points, for our facilities and have submitted these results to regulators annually. The company's operations and activities are monitored by relevant regulatory agencies and are reported by regulator-accredited third party environmental consultants."
SPDC  reacts
In its response, SPDC, through one of its spokespersons in the region, Mr. Joseph Obari, made available a report showing efforts by the company to harness gas in the troubled Niger Delta. According to the report: "Shell wants to power progress together by providing more and cleaner energy solutions. Natural gas is the cleanest of fossil fuels and Shell companies in Nigeria have played a pioneering role in onshore, shallow and deep-water gas exploration and production and its delivery to domestic consumers and later, export markets since the early 1960s.
"SPDC continues to make progress in close collaboration with its joint venture partners and the Federal Government of Nigeria towards the objective of ending the continuous flaring of associated gas. Since 2000, all new SPDC JV facilities have been designed to eliminate continuous flaring of associated gas. In parallel, a multi-year programme has been successfully implemented to install equipment for capturing associated gas from older facilities. As a result, flaring volume from SPDC JV facilities was reduced by 93 per cent between 2002 and 2016 and flaring intensity (flare divided by total hydrocarbon produced) by around 81 per cent over the same period.
"A reduction of gas flared from SPDC JV's operations continued in with a 53 per cent decrease compared to 2015 and a flaring intensity reduction of about 35 per cent from the previous year. The decline of flared gas in 2016 is also attributed to the interruption of operations and associated production shut-in at certain SPDC JV facilities (e.g. Forcados export terminal and Trans Niger Pipeline) due to acts of vandalism and sabotage.
"The SPDC JV is committed to reducing the volume and intensity of flaring even further through a number of associated gas gathering projects and progress continues to be made on these projects. A summary of 2016 performance shows that Bonny Associated Gas Solutions, AGS, commissioned as per plan, Escravos Beach, Adibawa and Otumara/Saghara AGS projects have been mechanically completed. The expected on stream date for the ForcadosYokri project is in 2017.
"There is reasonable expectation that the above-mentioned projects will be brought online subject to adequate funding and improved security in the Niger Delta. The aspiration of the SPDC JV is to transform into a gas-oriented business designed to secure value across the entire gas value chain that creates a sustained positive socio-economic impact for Nigeria. It aims to grow its gas production capacity to meet domestic gas supply obligations as well as commitments to supply gas to the NLNG plant for export.
"The SPDC JV, therefore, views natural gas as an opportunity with growth potential, given the right investment conditions. However, there are several challenges that need to be overcome in order to successfully develop growth projects for the domestic gas market. Resolving our biggest challenge – sufficient funding from our JV partners.
"A second challenge is to clear the backlog of unpaid deliveries of both power and gas to customers. Need to attract investment to further develop infrastructure along the gas value chain, for example, to create a more robust pipeline network to improve reliability of and security of supply. Ensuring a conducive business environment is essential to attract investments and have  reliable operations."
Wike  blames FG
Rivers State Governor, Nyesom Wike, informed that the State Government has formally approached the Federal Government to help resolve the challenge, without any assistance from that quarter. He said: "We set up a technical committee to investigate the black soot problem. The committee's report indicated that the black soot was largely a product of the destruction of illegal refineries by security agencies.
"It is not within the purview of the state government to control the security agencies. Therefore, we met with them and appealed that they find alternative ways to destroy the illegal refineries.  We also appealed to the Federal Government to intervene, but so far they are yet to do anything.
"We have prioritized this issue, but we cannot stop the security agencies. There must be a refined way of stopping the oil  criminals, without damaging the environment. We should separate politics from governance. This issue of environmental challenge posed by the black soot requires the direct intervention of the Federal Government.
"We are working with all major stakeholders to address this challenge. We are working with international oil companies to provide needed solutions. The Federal Government should, as a matter of urgency, intervene because the solution is within her purview."