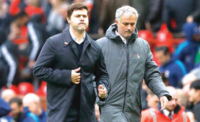 Pochetino-Mourinho
As Manchester United and Tottenham Hotspur clash in Saturday's FA Cup semi-final, Tottenham boss Mauricio Pochettino believes Jose Mourinho does not think his Manchester United counterpart needs to prove his credentials as one of the world's best.
Pre-season hopes that United could challenge for the Premier League failed to come to fruition, while the Red Devils were dumped out of the Champions League by Sevilla in the last 16. "For me, Jose Mourinho is one of the best managers in the world," he said. "I don't think he needs to show anyone that he is one of the best.
"Manchester United, for me, are having a fantastic season. Of course they will be disappointed like us to be out of the Champions League – it was massive obviously for them and for us. "Who needs the FA Cup more? I don't know.
"Every team is going to fight to try to win but it's not about need, it's about a title that would be a fantastic finish to the season.
"But it's not about who needs the trophy more."