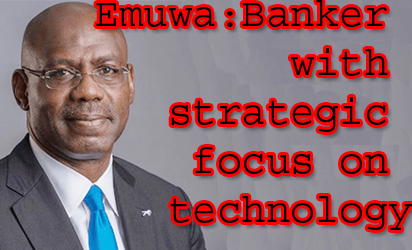 Emeka Emuwa
By Emeka Anaeto, Business Editor
THE Managing Director/Chief Executive, Union Bank of Nigeria Plc, Mr. Emeka Emuwa, has emerged The Vanguard Editors' pick for Banker of the Year, 2017, after a painstaking evaluation of outstanding performance track records of four other bank chiefs.
The board of editors had considered the institutional performance track records and peculiar circumstances under which the bank chiefs operated while also looking at the strategic positioning of the institutions into the medium to long term. The board also weighed public perception and opinion on the brand equity of the institutions.
Absolute figures in the most recent and the five year financial statements were not of primary consideration as much as the relative growth rates and consistency in key performance indicators. The banks were considered and compared to their peers rather than general industry benchmarks.
Union Bank 5 years to date
Union Bank had seen uncommon repositioning and industry relevance as the fortune of the bank began a new turn to brighter prospects shortly after assumption of office by the new team led by Emuwa in 2012.
As the team concluded its first five years last November, not only has the figures indicated a quantum leap in market share but a strategic foundation for ranking-up the industry leadership chart has been laid with its recent capital raise, about the most impressive in recent years in the Nigerian stock market.
It is believed that many banks would soon follow this lead step in 2018. The capital raise is expected to catapult the bank to front-line positions amongst the tier-2 banks. Most importantly, the success of the exercise also indicated huge confidence in a new Union Bank and an endorsement of the bank's reconstruction efforts in the past five years.
This coupled with the ever increasing depositors' confidence further confirmed in its third quarter 2017 financial results, at a time many banks, including tier-1 banks, were reporting decrease in deposit base. The bank had continued to record steady growth in key performance indicators in the past five years, and 2017 strategic positioning is expected to put the figures in stellar positions against competition.
The bank is expected to announce a further boost in regulatory capital requirement and with an increased working capital it is set to grow in strategic areas that correspond to emerging opportunities in Nigerian economy. With the capital raise, the bank said it would remain focused on its strategic priorities and expect this new capital to deliver the momentum needed to accelerate the pace of its business growth.
The new Union Bank has been noted in the public opinion box for enhanced technological platforms having made some strategic investments in technology and digitalization in the past five years. But the bank is not yet done with pushing the frontiers in digital banking as, according to its capital issue prospectus, it still intends to invest more in this area in 2018 to ensure competitive advantage, in the medium to long term.
Also, many observers in touch with Vanguard Editors believe the new Union Bank has optimized customer experience with investments in customer touch points. Increased deposits is said to be driven by a revamped digital platform and a customer-centric product suite, as the bank's area of focus remains retail, trade and transaction banking.
The bank's omni-channel network is also said to be delivering rapid digital penetration. Some industry sources say Union Bank now has the fastest growing mobile banking platform in the industry. As the bank continues the optimization of its sales and service centres around the country, it hopes to sustain this lead in the new year and beyond.
Highlights of most recent financials: In the nine-months to September 2017, Union Bank's gross earnings went up by 16 per cent to N109.5 billion against the N94.8 billion recorded in the corresponding period of 2016, fuelled mostly by 22 per cent increase in interest income.
Profit before tax, however, went down slightly by two per cent to N13 billion as against N13.3billion in 2016. Net Income went up seven per cent, while interest income went up 22 per cent to N88.5 billion from N72.3 billion, driven mostly by 23 per cent growth in average gross loans from N412billion in 9M'16 to N507billion in 9M'17.
Prudent provisioning
Net interest income after impairment also went up 16 per cent to N40.9 billion as against N35.2 billion recorded in 9M'16. There was a huge drop in impairment, down 53 per cent to N6.0billion, from N12.9billion in 9M'16, and coverage ratio has strengthened to 203 per cent as at September 30, 2017, from 182 per cent as at December 2016.
Speaking on the bank's 2017 performance the Chief Financial Officer, Oyinkan Adewale stated: "With our continued focus on early problem recognition and prudent provisioning, our coverage ratio has strengthened to 203 per cent as at September 30, 2017, from 182 per cent as at December 2016.
"The impact of naira devaluation, coupled with the inflationary environment, has pressured our cost-to-income ratio, especially as we continue to make investments in technology critical to our long-term business strategy. We are confident that these investments will deliver the expected cost benefits in the medium term. We also expect improved capital adequacy and higher revenues, fuelled by N50 billion of new capital."
For these and many other soft issues of brand visibility, Vanguard Editors voted for Mr. Emeka Emuwa, MD/CEO, Union Bank, as the Banker of the Year, 2017.