By Chinedu Adonu
There was excitement in Enugu State yesterday as 200 lucky traders went home with the sum of N50, 000 each at the second raffle draw of the repackaged state's Traders Empowerment Scheme held simultaneously across the 54 registered markets in the state.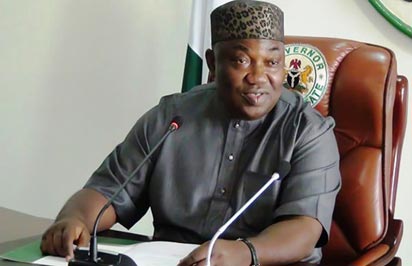 The money is meant to assist the traders grow their various businesses to help promote all-round economic growth in the state.
Addressing jubilant traders at the famous Oji-River Urban Market, Oji River Local Government Area, Gov. Ugwuanyi, while declaring the lottery draw open, said that his administration built on the success of the first phase of the scheme, "to introduce an improved and modified version that would accommodate more beneficiaries and also extend the scheme to more markets in the State".
The governor disclosed that the government was in Oji River Urban Market and other 53 registered markets' in continuation of the journey to empower traders in Enugu State through a monthly open lottery draw to be held in select  markets across the State".
He added that the exercise took place simultaneously in all the registered markets in the state to accommodate all interests and "ensure that only genuine traders who are present and participating in the draw will have the opportunity to win"
While thanking the traders and market associations "for their cooperation and enthusiastic participation in the scheme and continued support for our administration", the governor reiterated his administration's "unwavering commitment to improving the standards of living of our people and ensuring that opportunities for growth and rapid development are extended to every class of people in Enugu State".
Climax of the event in all the markets was the emergence of winners through an open raffle draw and presentation of cheques to the lucky winners amid jubilations.