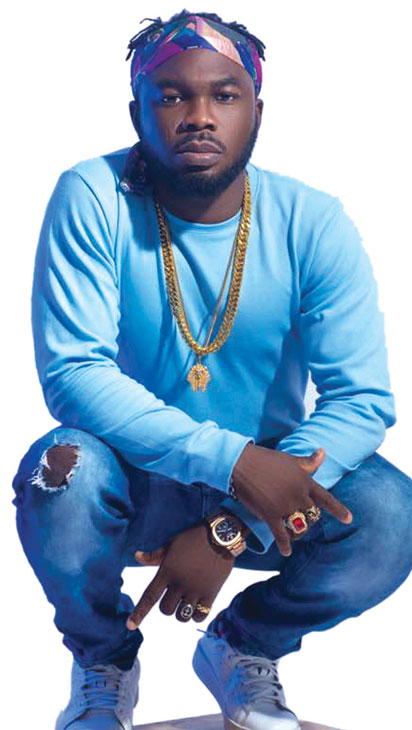 slimcase
By AYO ONIKOYI
The cliché 'tough times don't last, tough people do' aptly describes the odyssey of singer, Slimcase, born Oluwafemi Oke-Eko through the stormy seas of the music industry. For eight years nothing of note was heard of the Ikorodu-born singer, until some seven months ago when the tides turned for him. In the last seven months, he is perhaps the most featured singer by other musical acts.
The secret is simple. Slimcase, a.k.a Otunba Lamba resorted to the gritty part of the street where he belongs, weaving its pros and cons, to create a recipe of his own which has stood him out. He may have met bigger boys in the street, doing bigger things on the scene but Slimcase found his place and hoisted a flag that has since been flying with pomp and pride.
"Street music didn't start with me, it started long before me. I only came on the scene to add flavour to it. With street music came shaku shaku dance which started from the streets of Agege and Mushin.
Shaku  shaku has been around for a while on the streets, but nobody paid attention to it and no one knew how to tap into a sound for the dance until I dropped the song titled 'Oshozondi', and showed them that they can vibe that dance to this song. It created a standard for them which showed that this sound really goes with the dance. It made me popular. I didn't start the dance, my song created a platform for the dance," he said
Long before he became an article on the scene, the likes of Olamide, Dammy Krane, and others have been ruling the streets with their street vibes and slang but Slimcase maintains his own style of street slangs which he calls lambas and says they are like no other on the scene. He explained it is the reason he had christened himself, Otumba Lamba, saying he's not the king and challenges anyone who is king to come forth and declare.
"No one has come out to say he's the king of the street. I am the one who has come out to say I'm Otunba Lamba and the street accepted it like that because they enjoy my delivery. Street music is about slang (language) and I call my own lamba."