By Ochereome Nnanna
ABIA State, alias "God's Own State" is, ironically, one of the most poorly governed since the return of democracy to our country in 1999. It is certainly the most infrastructurally-deficient in the South East Zone. But having recently had the opportunity of going round my own native state, firstly as part of an editors' delegation and secondly as a stand-alone "tourist" I can confidently say that the sun has risen over the state at last.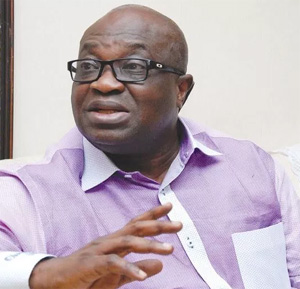 Abia State was unlucky to fall into the hands of a politician with a trader mentality, Chief Orji Uzor Kalu in 1999. He and his "Mother Excellency" saw the state as part of their Slok Group's acquisitions. I can only remember two lasting legacies Kalu left behind. The first was the fact that he led the Enyimba International Football Club to win the elusive CAF Champions League back-to-back in 2003 and 2004. Enyimba remains the only Nigerian team that achieved that feat, and Kalu was at the centre of it. Secondly, Kalu developed his village, Igbere. He even tried to make it the alternate capital and political mecca of Abia State. Well-tarred roads crisscross the sleepy village, even where vehicles do not pass. Elsewhere, there is very little left to remember of Kalu's eight years as governor.
Then came his handpicked successor, Chief Theodore Ahamefule Orji, alias "Ochendo Global". This second Orji started work very late in his first term, but he was able to build a lot of the governmental institutions which helped Umuahia, his hometown, to start resembling a state capital. Much of TA's infrastructural efforts were also concentrated within Umuahia communities. His landmarks in Aba were very tepid but definitely better than those of his successor and mentor, Orji Kalu. TA, however, promised to hand over to the person who, according to him, would develop Aba and the Ukwa-Ngwa areas. He kept his word by selecting Dr. Okezie Victor Ikpeazu, an indigene of Umuabiakwa near Aba, to succeed him.
The election that brought Ikpeazu to power still leaves a lot of bitter taste in the mouths of All Progressives Grand Alliance, APGA, supporters who are firmly convinced that their candidate, Dr. Alex Otti, won the 2015 governorship election. However, the Independent National Electoral Commission, INEC,  and the courts felt otherwise and Ikpeazu took the mantle of leadership.
There is no excuse for bad elections. But products of "bad" elections often struggle hard to impress and win over the people. It was a "bad" election that produced Dr. Chris Ngige in 2003. However, he went ahead to set the parameters for the sustainable development of Anambra State. Ikpeazu is following this line. Two things stand out in his own approach. These are: inclusive development and improvement of human capital. Ikpeazu is opening up interstate and inter-community roads that have never been tarred before, building new bridges and tackling erosion sites in all three senatorial sections of the state.
I visited the 34 kilometre Ozu Abam to Arochukwu road, the Abiriba to Nkporo Road, the Otamkpa Road in Isuikwuato, the Uzuakoli through Mkpa (my paternal grandmother's native town) to the Aba-Enugu Expressway, as well as the Abiriba Ring Road. They had never been tarred since creation, and work is still ongoing on all of them. There are 84 kilometres of roads under construction in Abia North alone.
Of course, the bulk of work is in the Aba urban metropolis and the adjoining Ngwa communities which had suffered abject neglect since the days of Dr. Michael Okpara as the Premier of the defunct Eastern Region. There is a brand-new four-lane road corridor between Aba through the heart of Ngwaland to Umuahia currently under construction, complete with drainage. Roads are being massively constructed throughout the commercial city. A giant flyover bridge, the first in the state, is under construction at Osisioma junction.  Faulks Road, which leads to the heart of commerce and industry – the Ariaria International Market – has been comprehensively rebuilt and widened with drainage and total de-flooding of the famous Ukwu Mango.
More than physical infrastructure, Ikpeazu, for the first time in the history of governance in the East since the civil war, remembered the toiling and long-suffering tradesmen and craftsmen that give Aba its fame. He has taken it upon himself to help the craftsmen and women of the city to become makers of world-class products. He sent dozens of youths to China to learn automation, and he is helping them to procure the technology that would improve the quality of their craftsmanship.
"Made-in-Aba" is gradually become a mantra for excellent production rather than fake or substandard local manufacturing, and Ikpeazu is personally championing it around the world. The Aba fashion industry is being leveraged to compete internationally. This will eventually reflect in the youth being usefully and profitably employed to ease the crime rate. So, it is not just the physical infrastructure that is being remodelled, the human capital, which Bill Gates spoke about when he recently visited Nigeria, is fully taken on board.
Abia State is gradually coming in from the cold. The feeling of abandonment is gradually giving way. I am beginning to see positive change in my native state and it is truly gratifying. Abia State has seen three governors in the past nineteen years. One came to exploit and maximise profits. The other came to try and build up the physical outlook of the state capital. This one is laying a solid foundation for sustainable development both in terms of physical infrastructure and human capital.
Anambra started the march from grass to grace in 2003 under Ngige and it has never looked back. From the bottom, Anambra with four major cities to cater for – Awka, Onitsha, Nnewi and Ekwulobia – is in the national top five. Abia has only two major towns – Umuahia and Aba – yet it is not in the top twenty. But it has started coming.