Dr Eucharia Ngozi-Oparah, the Director-General, Nigerian Institute of Leather Science and Technology (NILEST), has advised matriculating students of the institute to tolerate each others' beliefs to facilitate national harmony.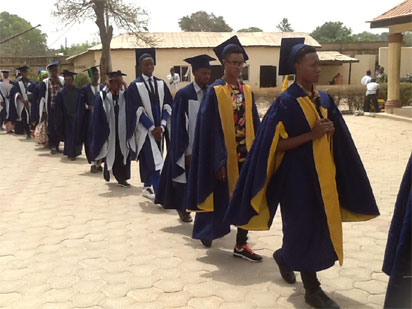 Ngozi-Oparah gave the advice on Friday in Zaria, Kaduna State, during the 2017/2018 matriculation ceremony of the newly admitted students.
"You must respect the rights and privileges of other members of the community. Freedom must not mean encroachment on the rights of others.
"Therefore, you must tolerate people who do not share the same beliefs, background, tribes and/or religious ideologies with you.
"This is the only way to foster harmonious and peaceful co-existence in the cosmopolitan environment of NILEST campus."
The director-general also warned the students against engaging in cultism, drug abuse, alcoholism, examination malpractice and other vices.
"I must remind you that examination malpractice is the shortest route to expulsion from the institute and prosecution by the laws of the land.
"Our goal is to make NILEST a model zero examination malpractice institution; you owe a duty to make this goal realistic."
Ngozi-Oparah charged them to beware of bad influence within and outside the institute, adding that they must dress decently and seek guidance from the Dean of Students Affairs.
She informed the students that the institute, established 50 years ago, is the only one of its kind in the West African sub-region.
"You are, therefore, on this occasion, matriculated into a unique institution, and it is my hope that you are all determined to be unique individuals as a result of special training that will be given to you in NILEST.
"The institute has sufficient functional facilities for all the areas of study for which you have been admitted. Some of these facilities have been in NILEST since inception in 1964.
"They have lasted this long not necessarily as a result of their design durability but because of the care with which the past students of the institute handled them,"
Newsmen report that the matriculation oath was administered by the Legal Officer of the institute, Mr Peter Agbayinta.
Newsmen also report that the new students received lectures on various areas of life endeavours as a guide to ensure smooth stay in the institute.
NAN