BY VINCENT UJUMADU
AWKA- THE new Rector of Federal Polytechnic, Oko in Anambra State, Dr. Izuchukwu Onu, has read the riot act of the institution to students, warning that any of them found to be a cultist would summarily be rusticated and handed over to security operatives to face the full weight of the law.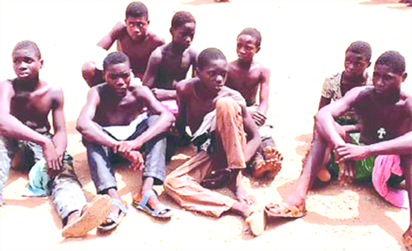 Onu, who took over the mantle of leadership of the polytechnic in March, spoke during the 34th matriculation ceremony of the institution.
He warned: "The polytechnic does not tolerate indecent dressing, stealing, fighting and the general disturbance of the ambience that exists in the institution for scholarship. Be it also noted and very seriously too, that the polytechnic has zero-tolerance for cultism, fake entry certificates, unruliness, academic truancy, gangsterism and indiscipline of any dimension.
"It is indeed a capital offence in the institution. If any student is caught engaging in any form of cultism, not only will the student be rusticated from the institution, but will be made to face the full wrath of the law.
"Cultism is sure to bring shame not only to yourselves, but your entire family. Do not say you were not warned. We have an effective anti-cult system that will deal ruthlessly with your nuisance value if you decide not to adhere to our instructions on this.
"On our part as management and staff, we strongly promise that we will always do our best to ensure that the parents' reason for sending their children here is accomplished. We can only re-assure you of our commitment to tame and humanise the many coarse ways of our new and largely impressionable students by helping them to grow into disciplined, civil, educated and creative adults. We therefore salute your choice of the Federal Polytechnic Oko for your children and wards' education.
"We are aware that as staff of this great Polytechnic, we can preach better homilies of rectitude and good conduct with our lifestyle than what these students can possibly get from the pulpit. In other words, we have a major role to play in making our students what they will be in life. We can make them shun evil or get positively attracted to it. We can make them strong in learning and in character, not to be deceived by the things of the world or by its whirlwind.
"Young people are the life-wire of any nation. A nation without them obviously has no future. Our interest, care and concern, therefore for our newly admitted students across the courses extant in the 33 academic departments of the polytechnic, is indeed a serious and total responsibility.
"The order to make and mould these students into responsible citizens comes with a corresponding price. First is an all-time sacrifice on the part of parents and guardians through ceaseless prayers, dedication and relentless care for your children's welfare in the institution. Please do not see the polytechnic as a dumping ground for your children. What they do or fail to do must remain your utmost concern as parents. You must continue to show devotion to their needs both physical and spiritual. You must continue to counsel them on good moral conduct. You must be alert and vigilant to know when they derail. That is definitely not too much to ask from you.
"Let me remind you students that education is the most important capital for tomorrow's investment. Education combats evil; it gives impetus to genius. Education is a friend at home and an introduction abroad. Take advantage of your being here and acquire good and sound education."
The polytechnic was founded by the late second republic Vice- President, Dr. Alex Ekwueme and in 1979, was approved by the Anambra State Government as College of Arts and Science designed to prepare students for the General Certificate of Education, GCE examination at both ordinary and advanced levels.
Subscribe for latest Videos