By Chioma Obinna
PharmAccess Foundation Nigeria has explained the rationale behind its activities in Nigeria, saying they are committed to innovative healthcare service delivery.
Meanwhile, the organisation is partnering with the Nigerian Healthcare Excellence Award, NHEA, to recognize and celebrate innovative healthcare service providers in Nigeria during this year's award ceremonies billed to hold June 22nd, 2018 in Lagos.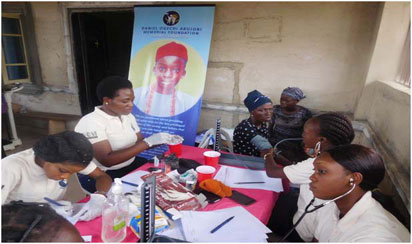 According to Njide Ndili, PharmAccess Nigeria Country Director, "This is our third consecutive year of partnership with NHEA but our second year as the sponsor of the innovative healthcare service provider award category. Our motivation supports our core objectives, which is to promote innovation that improves access and efficiency in service delivery at scale, leveraging technology at an affordable cost without bias to your location, economic status or income level."
"Our goal is to provide technical assistance to states seeking to operationalize their mandatory health insurance law; deepen engagements with federal and state Ministries of Health and primary healthcare development agencies to scale SafeCare methodology in Nigeria; leverage on the digital and mobile technology innovations to achieve scale among others with a vision to increase access to affordable and better healthcare.
speaking on the  development, Project Coordinator for  NHEA, Dr. Shola Alabi said, "NHEA is Nigeria's leading healthcare platform that recognizes excellence and innovation in the healthcare sector. We value our partnership with PharmAccess. Their desire for continuous improvement in the sector deserves special commendation."
"Nominations for the 5th edition of NHEA 2018 is ongoing and stakeholders can visit nigeriahealthawards website  to either make their nominations online or download the nomination form. Winners of the various categories will be honoured on Friday, June 22, 2018 in Lagos Lagos. Nominations will close on May 25, 2018 before the commencement of online voting to enable the award jury select the winners of the various categories.
Also,  23 awards and recognitions will be presented at the ceremony under four main categories;
Special Awards, Healthcare Delivery Services, Biomedical Technology and Pharmaceuticals."
NHEA is organised by Global Health Project and Resources (GHPR) in collaboration with Anadach Group, USA.