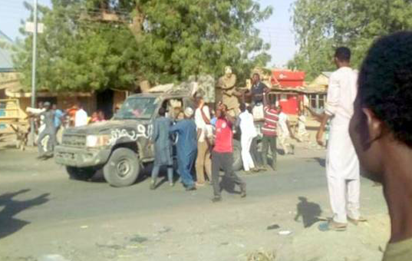 Youths shaking hands with Boko haram members
Three Chadian soldiers were killed in a clash with Boko Haram jihadists on Sunday, Chad's national television reported on Tuesday.

The three were given a posthumous award by the Chadian army chief of staff, the report said, adding that they were buried at the N'Djamena military cemetery.
The report gave no details of where the clash happened.
A military source said fighting took place on Sunday between Boko Haram and Multinational Joint Task Force (MNJTF) soldiers in Arge in Nigeria's Abadam district, which is on the border with Chad.
Three MNJTF soldiers were killed, the source said, without specifying whether they were Chadian.
The MNJTF has patrolled the Lake Chad area for several years alongside civilian "watch committees" to prevent the return of Boko Haram to the region.
On the Nigerian side of the border, the MNJTF is tracking jihadists in one of their main strongholds in the Sambisa Forest of Borno State in the northeast of the country.
Boko Haram operates mainly in its birthplace Nigeria, where it commits deadly attacks and carries out kidnappings.
The jihadist group also operates in several countries neighbouring Nigeria such as Chad, Cameroon and Niger.
Since 2009, more than 20,000 people have died in Nigeria alone, victims of Boko Haram's actions and clashes with the army.