By Ola Ajayi
IBADAN—THE ACADEMIC Staff Union of Universities, ASUU, has accused the All Progressives Congress, APC and the Peoples Democratic Party, PDP, of having failed Nigerian children for their lack-lustre performance in funding tertiary education.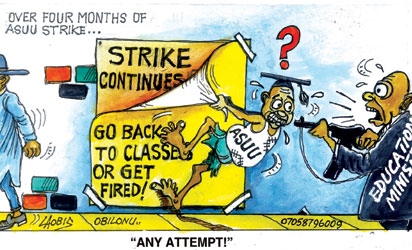 The chairman, ASUU University of Ibadan Chapter, Dr Deji Omole made the accusation, in a statement, in Ibadan yesterday.
According to him, it is obvious with the refusal of the ruling APC to inject revitalisation fund into public varsity education in the country to assist children of the downtrodden enjoy qualitative education.
Omole said only the former President , Goodluck Jonathan injected N200 billion for the revitalisation of public varsities after an industrial action of almost six months in 2013.
He said: "Public Universities are grossly under funded leading to serious pressure on the available resources which have been stressed beyond elastic limits. Many qualified candidates cannot be absolved into the system due to lack of adequate facilities. Children of the masses are housed in zoo-like condition. Laboratory, lecture rooms, light are worse-off now."
"Despite agreeing with ASUU to pump in N1.3trilion spread out  in six years  (2013 (N200b); 2014 (N220b); 2015 (N220b); 2016 (N220b); 2017 (N220), 2018 (N220b); only the Goodluck Jonathan administration released N200b in 2013 and that was all! Not even a kobo for revitalization has come from the Muhammadu Buhari government."