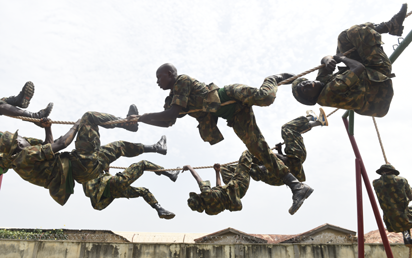 Recruits undergo training at the headquaters of the Depot of the Nigerian Army in Zaria, Kaduna State in northcentral Nigeria, on October 5, 2017.
By Ola Ajayi
IBADAN — IN order to prepare its troops for the forthcoming combat proficiency competition, the 2 Division of the Nigerian Army, Odogbo, Ibadan has organised an inter brigade quarter guard competition for formations under its jurisdictions as a prelude to the competition.
The competition, which held at the 2 division garrison, attracted soldiers from 42 Engineering  Brigade, Ibadan; 52 Signal Brigade, Ibadan; 22 Brigade (Rear), Ilorin; 2 Division Garrison, Ibadan; Engineer Construction Command, Ede; 4 Brigade, Benin and 32 Brigade, Akure.
While speaking at the competition tagged '2 Division Inter-Brigade Quarter Guard Drill', the Division Garrison commander, Brigadier General Oluyinka Soyele, hinted that the competition was held ahead of a combat proficiency  competition of the Nigerian Army to be hosted by the division next week.
Soyele said the exercise was organised to promote "team work centred on alertness and obedience to command. A soldier that is always alert and obeys orders as expected will remain a professional model and an asset to every command."