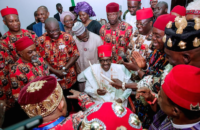 President Buhari conferred with the title of Ochioha NdiIgbo 1 by South East traditional council of rulers led by Eze Eberechi Dick during his visit to Ebonyi State on 14th Nov 2017
By Dirisu Yakubu
ABUJA-The People Democratic Party (PDP) has urged the people of the South-East not to allow themselves to be taken for a ride by the Presidency with the claim that its support for President Muhammadu Buhari's re-election bid would help facilitate the Igbo quest to have one of its own occupy the highest seat of power.

The party also challenged the ruling All Progressives Congress (APC) to demonstrate its new found love for the South-East by ensuring the implementation of the 2014 confab report, part of which recommendation is the rotation of the Presidency among the six geo-political zones.
In an exclusive chat with Vanguard on Thursday, National Publicity Secretary of the PDP, Kola Ologbondiyan said if the ruling party is truly in support of the Igbo Presidential aspiration, it should forward the report to the National Assembly for possible input in the amendment of the 1999 constitution.
He said: "The South-East is a traditional stronghold of the PDP and APC on realizing this is coming up with all forms of gimmicks to garner the votes of the South-East. Does APC look like a party that believe in the minority rights? If APC believes in the minority rights, they should go and dust up the 2014 confab report and begin its implementation.
"The question surrounding the possibility of the South-East producing the President is answered in the 2014 confab report. They should take up that report and begin the implementation or forward the report to the National Assembly, and allow the lawmakers to make use of same in amending the relevant provisions of the 1999 constitution."
While urging the people to embrace the PDP platform, the publicity scribe argued that the South-East would continue to receive the attention of the party, arguing that if the South-South could produce the nation's first citizen on its platform; there is no reason the South-East would not repeat the feat.
"That promise to the South-East is not necessary. If they have not done this (implementation of the confab report), they are merely deceiving our brothers in the South-East. But our brothers in the South-East know that the PDP belongs to all Nigerians. They also know that if the South-South can be President, it is equally certain that the South-East can also be President," he stressed.