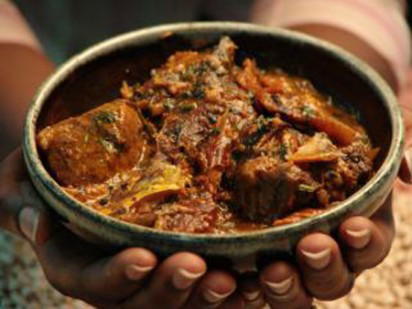 Lagos – A Pharmacist, Dr Chukwuma Agubata, says that taking Irvingia Fat from nuts of Irvingia Gabonensis Var Excelsa, known as "Ogbono'' soup has helped to improve the efficacy of anti-malarial drugs.


Agubata, a researcher and lecturer in the Faculty of Pharmaceutical Sciences, University of Nigeria, Nsukka, made the assertion when he spoke with the News Agency of Nigeria (NAN) on Tuesday in Lagos.
He said that eating Ogbono soup while administering Artemether, an Anti-Malaria drug would improve the efficacy of the drug.
He said that Ogbono would assist the drug to pass through all the barriers to get to its destination in the body and start working properly.
According to him, the finding came out of a research work entitled "Novel Lipid Microparticles for Effective Delivery of Artemether Anti-Malaria Drug Using a Locally-Sourced Irvingia Fat from Nuts of Irvingia Gabonensis Var Excelsa (Ogbono).
"Malaria is an endemic disease and is a major cause of morbidity and mortality, and we also know that most malaria drugs are administered by mouth — the Artemether Anti-Malaria drugs.
"'But there is a major challenge which is the low water solubility of the drug which limits it dissolution and absorption into the blood stream; all this also affect the efficacy of the drug.
"'So, what we have done in this research is to improve the anti-malaria efficacy of Artemether drugs by formulating with Irvingia Fat (Ogbono) which is locally sourced so that there could be improved delivery and efficacy.
"In our research, we got very good result and this shows that our local materials can actually improve the efficacy of some drugs that already exist,'' he told NAN.
"The Ogbono was formulated as microparticles, where the fat from it was used to entrap the drug and it became a carrier for the drug to the blood stream.
"So, if you take Ogbono soup while administering or taking Artemether, there should be an improvement as it will assist the drug to pass through all the barriers to get to its destination in the body and start working properly.''
Agubata called for support from the government and private organisations to take the research to the next level.
"We intend to take this research to the next level with the support of corporate organisations and the government.
"We will be able to do local mobilisation and mass produce the locally sourced materials so that Nigerians will benefit.
"Going forward, there is hope in reducing the burden of malaria with this research,'' he said.
NAN reports that Irvingia is a genius of African and Southeat Asian trees in the family Irvingiaceae, sometimes known by the common names wild mango, African mango, bush mango, dika or Ogbono.
They bear edible mango-like fruits, and are especially valued for their fat- and protein-rich nuts.
The fruit is a large drupe, with fibrous flesh. The subtly aromatic nuts are typically dried in the sun for preservation, and are sold whole or in powder form.
They may be ground to a paste known variously as dika bread or Gabon chocolate. Their high content of mucilage enables them to be used as thickening agents for dishes such as Ogbono soup.
The nuts may also be pressed for vegetable oil and the trees yield a hard wood useful in construction.
Irvingia was described as a genus in 1860 and is named in honour of Edward George Irving, a Royal Navy surgeon.