By Emmanuel Una
IKOM—NKOME Ekpache  community in Ikom Local Government Area of Cross River State has invoked its ancestral god against building material traders operating in the area following the expiration of the ultimatum handed down to them to vacate the market.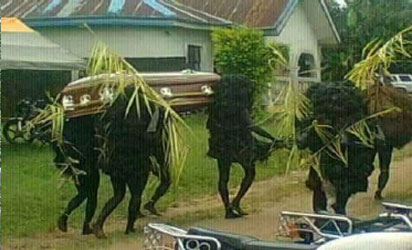 Niger-Delta Voice learned that the council had allotted the traders a new location at Otedere which they (traders) claimed is waterlogged and would impede their business activities.
But the community and council authorities are insisting they must leave Nkome community.
The ultimatum given to the traders, it was learned, expired in February and to force them out of the area, the community folks invoked their ancestral god, Nkpache which directed them to tie fresh palm leaves around shops in the market.
This directive, the community leaders complied with, to stop the traders from accessing their shops.
Meantime, the traders have pleaded with the state governor, Senator Ben Ayade to wade into the matter.
They accused the Head of Administration of the Council, Mr Julius Adie of alleged highhandedness and being instrumental to the action of their host community stopping them from doing further business in the area.
According to the Chairman of the Building Materials Association, Mr Jerome Amba, "Mr.Adie liaised with the Nkpache Nkome community to tie fresh palm fronds around shops in the building material market to stop traders from accessing their shops."
He said the council asked them to move to Otedere area which is flooded and that they have had series of meetings with Mr. Adie and his team and were still planning for additional meetings with them on the way forward when the community resorted to invoking their god to bar them from the market.
Amba appealed to the state governor to prevail on the HOLGA and the community leaders to give them a better site to move into and not the current waterlogged area where they cannot bring in their goods.
Contacted, Mr. Adie, the HOLGA, asserted that the traders have been asked to relocate from their present market to the new site for over nine years.
He said: "They have been unnecessarily stubborn and bluntly refused to purchase the plot allocation form for N50,000."