Fresh fears over the allocation of Polling Units by INEC
•Game changer is Voting Points Settlements, VPS
•Questions electoral body must answer
•The story of the failed allocation of 30,000 PUs
By Jide Ajani
On the march again! Whereas Professor Attahiru Jega, immediate past National Chairman of the Independent National
Electoral Commission, INEC, brought some reforms of significant reckoning to the processes and procedures of
Nigeria's electoral system, his controversial allocation of 30,000 Polling Units, PUs, which was shot down in 2015, may be on its way to being surreptitiously re-introduced by the new leadership of Prof. Mahmood Yakubu.
Disguised as Voting Points Settlements, VPS, the cat was let out of the bag recently by the former chairman when he openly congratulated the new leadership on its reforms in the area of voting points, a revelation that was strange to insiders at the Commission. This report will show why the new move may not different from the failed lopsided allocation, which saw the North handed over 21,000, while the South had less than 9,000 PUs. In addition, it will show the inappropriateness of the hasty move less than 10 months to next year's general elections.
Finally, just as it is with the presently unchangeable lopsided 774 LGAs, on which revenue sharing is based, the push to discriminately share out this so called VPS comes with the potential of rendering useless and discombobulate, the provisions of Section 133 (b) which deals with the issue of spread in voting to determine wide acceptability of a President. Conversely, the tokenism of attempting to solve a few instances of far-flung PUs and ease voter participation, which is the usual position of INEC, is negligible in the face of the potential universal consequence for the South specifically, and for the future of Nigeria's integrity in general, within the context of democratic best practices.
Fool's Errand
Just a day after Fools' Day, on April 2, 2011, journalists asked President Goodluck Jonathan for his thoughts about the voting process of that day. An anxious Jonathan expressed joy that "so far, everything is going smoothly". But, had Jonathan chosen to cross-check from the man in whose hands the destiny of a guesstimated 73.5million voters laid, Professor Attahiru Jega, then National Chairman of the Independent National Electoral Commission, INEC, Nigeria's President would have discovered, rather embarrassingly, that what he had engaged in was a fool's errand – the election of that day (National Assembly) had just been postponed without his knowledge.
Before that fateful day, Sunday Vanguard had made some revelations about the contract award for voting materials in context, content and volume per figures, and why Nigerians needed to pay more attention, especially in the light of the tens of billions of tax payers' money involved – N30, 000 (that figure of 30,000), for instance, was paid to each of the about 360,000 registration agents, 8, 000 of whom were INEC staff, for the exercise. This newspaper had also published exclusive reports on the late release of funds and the lack of preparedness of INEC, particularly because some election materials were yet to arrive in the country some 24/36hours to the polls.   Yet, imbued with a sense of false optimism, INEC's leadership went ahead only to postpone after barely three hours into the election.   That was in 2011.
Yet, much earlier on Saturday, December 5, 1987, the LG polls of that year, which was on zero party basis, suffered a similar fate when then chairman of the National Electoral Commission, NEC, late Professor Eme Onuoha Awa, got the shock of his life when, despite meticulous planning, politicians almost marred the election with their shenanigans, causing the commission to extend voting hours.   In this case, for no fault of the commission, something pragmatic needed to be done – and was done – to save the situation.   Therefore, try as the commission may, arrangements meant to engender positive reforms can become a vehicle to carry out crooked intentions when in the hands of unpatriotic elements.
Reforms
Now, due to several electoral reforms made by INEC since 2011, the credit of which must, of necessity, go to Jega, election rigging, although not eliminated, has become more costly and challenging.
Take, for instance, stealing of ballot papers: this has been rendered redundant as ballot papers are now customized to Polling Units, PUs.   Also, the snatching of ballot boxes may only postpone an election in the affected area, costing political players more resources while the changing of election results during collation may be more difficult where voters have pictures or videos of results from PUs.   These are laudable steps.
In addition, the widely perceived passion with which Jega pursued the independence of the election management body appeared good, as it kept the Jonathan-led presidency at bay – even though this also created its challenge of submissiveness by the latter in the face of manifest and verifiable blackmail on the part of INEC.
Corruption and Stealing; Polling Units and INEC Voting Points Settlements!
However, there are fresh fears – just as was the case and it was ignored pre and during the 2015 general elections – that some powerful individuals are determined to use the instrumentality of INEC to introduce a crafty pre-election bias, with a view to egregiously pre-determine the outcome of the 2019 general elections.
This fresh plan, which Sunday Vanguard has been able to verify and confirm, is being surreptitiously effectuated by masking the insanely lopsided, though abortive, allocation of 30,000 PUs, as Voting Points Settlement, VPS, by INEC to favour the incumbent President, who, so far, has not tried to use his position to stir electoral victory to his party, given the outcome of the elections conducted under his watch.
But there appears to be some determined forces behind this move and, so far, investigations have revealed that persons, within and outside the Commission, are working behind the scenes, with a view to influencing the current Chairman to re-introduce the lopsided PUs, now deceptively called VPS.
Given the diverse security challenges the country is already facing, INEC will have to be very careful and avoid controversial and shoddy attempts to create more tension in the country through the re-introduction of the new PUs now called VPS
Sunday Vanguard discovered that the plans started since last year when, in November, a communication between those behind the move was intercepted, showing that some states in the northern part of the country – except a few states of the Middle Belt – were put on notice quietly and Acting Administrative Secretaries/Commissioners of INEC in those states have been working on the plan, whereas the entire southern states have been put in the dark until about the end of last month (March).
Officially, information pieced together suggests that a memo on this matter, dated March 20, 2018, was sent to Acting Administrative Secretaries and Resident Electoral Commissioners, RECs, all of whom were mandated to submit the identified new settlements in their various states on or before April 3, 2018.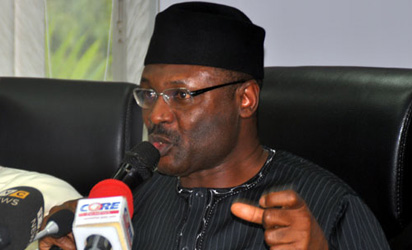 In effect, what the memo directs is that the exercise should be carried out within 14 days, despite several impacts the so-called VPS may have on voting and voter behavior.
Nigerians must not forget and, therefore, recall that the sudden announcement by Prof. Jega of the creation of some patently lopsided PUs, few months before the 2015 elections, created doubts about the correctness of the INEC leadership, prompting several calls for his resignation given the lopsidedness of the allocation. Again, in a matter of months to 2019 elections, an exercise, that otherwise would have been considered desirable for the purpose of creating PUs to serve various new settlements across the country, has again been mismanaged by the quest for domination and attempting to use it for political advantage, a key reason Nigerians, particularly those to be cheated and dominated, need to closely watch and scrutinize the intentions of principal actors inside and outside INEC who are clandestinely pushing for the subtle introduction of VPS, a new name for extra PUs, which almost torpedoed the 2015 general elections.
Those who may have forgotten the attempt to foist new PUs on the nation in 2015 will remember the figures in the table below:
Like the 36 states and 774 LGAs created without regard to demographic reality, this new attempt, again, to use VPS disproportionately, despite a section of the country already having more Polling Units, conveys a determination to widen the disparity.
Those who fail to see the implications of such pre-election arrangements need to understand a few facts about election rigging.
Election Rigging From Source
There are three major ways to rig elections, or instigate election fraud, as described by Sarah Birch, one of the leading authorities in the study of election malpractices and irregularities. One way to do it is by manipulating the design of the institutions governing elections. Practically, authorities can achieve this by making it easy to determine who appoints election officials to places where key decisions for elections are made and injecting pliant people that can be manipulated (some might even appoint relatives), or making it easy to change electoral laws at will to suit partisan political purpose.
Another method is to manipulate the choices that voters make at the ballot. In practical terms, this can be achieved in several ways, including, but not limited to buying the votes or the way voters cast their ballots, buying election managers to change or substitute the ballot or ballot boxes using pre-cast votes or pre-stuffed ballot boxes; or using pliant election managers to change the voting results during collations or announcements of results, or using hired thugs to destroy the ballot boxes in areas where partisan opponents are likely to get higher votes.
A third method, and equally as pernicious, is the manipulation of the voting act, including diverse versions of what has already been described but more seriously, by using biased election management decisions, and one way of   doing this is by gerrymandering, a process of organizing political boundaries, voting areas or voting arrangements to give electoral numeric advantage to a political group. Some methods or techniques of gerrymandering are interesting but the outcome, if suspected by voters, can lead to anarchy.
For example, one method is called packing – in this method, people who are likely to vote for a particular political group, are loaded by assigning them to specific voting points or PUs in some areas to predetermine the voting outcome in elections in that area. In another method called cracking, crafty election managers dilute the votes of areas where opposing partisan interests are likely to give a political interest high votes; in the 2015 elections, there are allegations that election managers were used to destroy the permanent voter cards, PVCs, in many areas where some interests were likely to cast high votes against others; and even the card reader not used in some northern parts of the country as revealed by Alhaji Tanko Yakassai last week;   or arranging voters into designated areas as their PUs, or withholding targeted PVCs, can also be used to pre-determine   elections by packing in favour of specified partisan interests or cracking other partisan interests.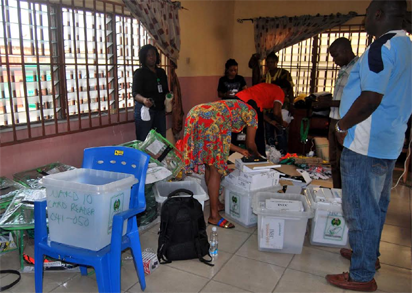 Another method of gerrymandering is called bleaching. This is achieved by packing too many opposing voters in one area, such that although they win that area eventually, the opponents who, though fewer in number, have been deliberately spread out into more constituencies so that, for instance, the opponent obtains high votes in a few areas but only gains few constituencies.
Imagine, for instance, that a candidate gets very high votes in three wards but loses by small margins in 15 other wards. Usually achieving such manipulations of the election to favour pre-determined political interest requires manipulation of the demographics of voters.   But since Nigeria has not conducted a census or constituency delineation in a very long time, the only way people can deliberately do it under the current electoral condition is by using voter registration data from the continuous voter registration exercise to introduce new PUs or what is now being referred to as VPS. The possibility of such manipulations going on quietly in the background, while others are busy politicking, possibly in vain, is a key reason why all political stakeholders must pay close attention to the new VPS about to be introduced by INEC.
The Devil Is In The Details
In the event that a lopsided allocation is again engendered and allowed to scale through, an analytical thesis, using the Card Readers and PVCs, would turn up with the proverbial 'garbage-in-garbage-out'. Since it has been established that some people are already working on the script, any lopsided arrangement would confer undue advantage on any part of the country that is programmed to benefit from this.   As it was with the 2015 elections when the adherence to strict PVC collection held sway in the South than in the North, and a situation whereby Jonathan's inability to be properly processed by the Card Reader paved the way for a free for all situation across the country, the Card Reader usage would process what has been entered into it.
Now, therefore, just imagine…of the 30,000 PUs, only one zone in the North, the North-West, got 7,906 extra PUs; and when you add the Federal Capital Territory, FCT, Abuja's 1,167, you get a total of 9,073; whereas the entire southern Nigeria got just about 8,414.   With 500 prospective voters to every PU/VPS, every 1, 000 PUs/VPS confer an advantage of at least 500, 000 where the real intention is to compromise the electoral process.
In the case of the lopsided allocation of PUs in 2015, at the rate of 500 voters to each PU, an allocation of extra over 1, 000 to some 11 states in the North is a guarantee for no fewer than over 5, 500, 000 voters more than the entire southern Nigeria – mind you, the North-West geo-political zone and the FCT match the whole of southern Nigeria.   By the time you add the allocation to North-East and North-Central zones, you end up with something really serious and unassailable.
There are suggestions that some vested interests have already drawn out areas where they will use VPS to execute packing, bleaching and cracking to favour pre-determined electoral results in 2019.
To create an illusory visage of collective engagement, some areas in the South would also be used to carry out this manifestly devious act.
Unfortunately, however, beyond the present, an unjust application would not do Nigeria's democracy any good, especially given the fluidity of the seemingly nascent state of political philosophy of actors, and the probability that with shifting allegiances may come interests that may no longer be permanent – and this applies to both North and South.
This would not be good for democracy and the country in the long run because it only bequeaths myopic, short term benefits that come with the potentials of leading to anarchy.
Attempts by Sunday Vanguard to ascertain the level of awareness of some insiders in INEC, of this seemingly misguided venture revealed that many are not in the know.   Some questioned how such divisive and controversial action can be introduced so close to general elections. They also wondered what data will be used to ensure minimal bias without conducting constituency delineation which will require huge budgetary allocation by the National Assembly and, therefore, expressed concern that the outcome, if poorly executed, may dissuade voters in many areas from voting.
There are those who alleged that these manipulations may be deliberately on-going to aid the re-election of President Muhammadu Buhari.
But this is doubtful and the bottom is knocked off this line of thinking, given the President's experiences and his avowed promise to build on what President Jonathan did for the country on matters of election.
Whereas some point to the hurried removal of the Acting INEC Chairman, Amb. Wali, after Professor Jega's departure and hurriedly replaced with Hon. Amina Zakari, who remains embedded in the decision-making echelon of INEC while also sharing family ties with the President, which raised monumental ethical questions, President Buhari has consistently made it clear that he stands for justice and equity, something he has proved severally by his actions and acceptance of election results which in some cases did not Favour his own political party.
Given the diverse security challenges the country is already facing, INEC will have to be very careful and avoid controversial and shoddy attempts to create more tension in the country through the re-introduction of the new PUs now called VPS.
These warnings and concerns are germane because most voters do not take important turning points in election planning, such as districting or constituency delimitation, which has consequences for the location and spread of PUs, as significant as they should, hence they ignore red flags when electoral bodies or political authorities take actions that may alter political constituencies, electoral maps and consequently PUs.
Whereas such actions have important impact for the outcome of elections, which become obvious only when election results are released and voters come to find out too late that the electoral game may have been programmed to be won even before the ballots are cast, where the right   things are done, creation of PUs is the last stage after census, constituency delimitation and ward review, in the identified new settlements to accommodate demographic changes which is normal.   But in our situation in Nigeria, it is rather used for partisan, sectional domination.
Demographics
What some people often ignore is that because most Nigerians have come to note that the national population census is politicized, serious-minded Nigerians, who are adept in planning and know the importance of accuracy of demographic data for planning, often use more reliable corollaries to make near approximate estimates of important demographic data. And if near proxy data are used, none makes sense with the pattern used by INEC to create the controversial new PUs in 2015.
For instance, if we take an approximate pattern of total junior secondary school enrolments for any three years before a voter registration exercise where new cohorts of 18-year-olds will become eligible for voter registration after three years (total junior secondary school enrolments data is available from the Bureau of Statistics and the National Demographic and Health Survey), there will never be any records indicating that the entire South-East will be at a ratio of 1,167/1, 200 with the Federal Capital Territory, Abuja. Using the same proxy of total junior secondary school enrolments, it will never happen that the entire South-West, including Lagos State, with the largest population of voters in the country, will have a population ratio with the North-East of the following pattern: North-East 5,291: South-West 4,160 (or 5,291:4,160   NE:SW).
We can use other demographic proxies such as five-year-old immunization ratios: 13 years prior which will make 18-year-old cohorts or six years after primary six enrolment figures. In none of these proxy demographics will any such patterns emerge regardless of INEC's seemingly sterile arguments about registered voters who present for voter registration. There are no mobilizing factors for such registrations in the North-West or North-East that are superior to the mobilization of registration of voters in other parts of the country. In any event, those who are now planning to use VPS as disguise to recreate the PU scenarios, which were previously tested but intensely resisted, are the same forces that plotted the PU disparity and have not given up, but appear to be working closely and are attempting to guide the new leadership of INEC, and have become more disingenuously creative by using the VPS to gerrymander their political opponents out of the electoral game-plan long before voting lines are formed in 2019.   This may work for or against the incumbents across board.
Questions For INEC
While acknowledging the fact of the emergence of new settlements in states, cities and towns across Nigeria, it should not be used as a subterfuge for the re-introduction of the failed lopsided 30,000 PUs. If this is not the case, then INEC needs to provide answers to concerns and troubling questions such as the following:
(1) Why was this exercise of creating PUs to serve new settlements not carried out immediately after the 2015 elections?
(2) Why were the new settlements identification not carried out before April 27, 2017 when INEC began the Continuous Voters Registration (CVR) exercise that is on-going?   (3) How does INEC migrate and inform voters of who will be in the new settlements?
(4) Has INEC given a thought to the confusion on the day of election, when voters are asked to go elsewhere from where they registered to vote?
(5) What becomes of INEC's long standing policy of locating PUs in public buildings in new settlements without such facilities?
(6) Would this hurried pre-determined exercise not end up in having Polling Units in private homes and evil forests as was the case in the past before the situation was sanitized?
(7) What mother units are these voting points attached to and how far are these voting points from such mother units, or are they being created on their own, independent of existing Polling Units?
(8) If so, what form of coding will be used for the voting points vis-a-vis PVCs currently held by voters?
(9) Has INEC also given a thought to the long period the Commission has spent in persuading voters to collect their PVCs and the accompanying slow rate of response by voters? If so, why thinking of introducing another round of PVC collection that will be necessitated by the planned migration of voters to new VPS? Could this be, as stated above, a confirmation of a ploy to demobilize the current PVCs in the hands of voters from particular sections of the country whose slow response to PVC collection has been noted as a pattern?
(10) If the new settlements were created in many instances for displaced persons as a result of security challenges, what happens to these documented voting points and their codes when the security challenges have been addressed and the displaced persons return to their indigenous homes?
(11) Will such voting points not become shells for inflating voting figures when the displaced persons they were created for become itinerant due to further security challenges which is unpredictable and may be used as a pretext to create voting points according to partisan whims?
(12) Given the distrust, controversies and biases it will generate, why bring up such an issue so close to the general elections with all the other troubling issues that will attend the electoral cycle?
PU Allocation: Twice as bad (a history)
The brief history of PU allocation is necessary for the reader so as to understand the systematic approach that had always been used to gain political power, just as it has become near impossible (except the North agrees) the 774 LGAs in the country and the 36 state-structure (with the South-East having five and the North-West having seven) may never be altered using the 1999 Constitution.   Regarding the allocation of PUs, the only southern INEC Chairman, Professor Maurice Iwu, who attempted to alter it, did the wise thing when one of his colleagues, Alhaji Muhammed Jumare, objected, thereby shattering INEC's consensus approach to tackling issues.
Sunday Vanguard learnt that during Iwu's tenure, the Commission agreed to do an increase based on some criteria and the only states that were supposed to benefit were Ondo, Cross River and Taraba.   But because of Jumare's objection, that board of INEC dropped the idea. Dr. Lisa Handley, renowned consultant on delimitation, advised that INEC required a minimum of three years, in-between general elections, to commence and conclude a review, including managing the challenges and securing National Assembly approval.   So, the question is, why hastily attempt to do this just some 10months to next year's general election.
Brief History of Present PU Disposition
1993 – 1997 – Muhammed Alli (northerner) was in the saddle as DG, NEC, and created PUs.
1996 – Even at that and unlike what is being attempted now with the VPS, the two foundational stages of Delimitation of Constituencies and Ward Review were conducted (as conditions precedent) before the PUs were created.   After Alli prepared the ground works concluded in 1997, Chief Sumner Dagogo-Jack was appointed NECON Chairman and he simply adopted the report because of the impending transition which was still a year away.    Notable features of that exercise included but were not limited to the reduction of federal constituencies from 450 to 360; electoral wards from a minimum of 10 and a maximum of 20 per LGA; 66 state constituencies suppressed arbitrarily as part of the cost-cutting measures.
1997 – Local Govt. Council elections on party basis held in March
1998 – Legislative Assembly elections (State, House of Reps, and Senate) on party basis were held. Governorship and Presidential elections scheduled next but never held following the death of then Head of state, General Sani Abacha
1998 – INEC created, adopted the Delimitation Regime of NECON
2008 – The only time Polling Units were to be created under a southerner, Iwu, only one northern National Commissioner (Jumare Mohammed) objected and the idea was dropped, in a board of INEC with southern Commissioners in the majority (lwu (Chairman); Bar. Philip Umeadi, Prince Chukwuani, Mr. Soyebi).
2014 – Attempts to foist on the nation a hastily contrived, ill-motivated and ill-timed delimitation review collapsed.
NOTE:
PUs and RAs are naturally reviewed jointly just as Federal and State Constituencies flow together. Present review is in bad taste and faith.
In 1996, additional states were created by Gen. Sani Abacha