Premier League managers and former players showered praise on Arsene Wenger on Friday after the Frenchman announced he was stepping down from the Arsenal hotseat at the end of the season.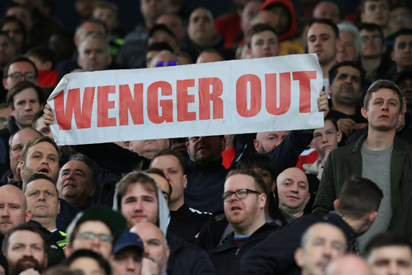 The 68-year-old has won three Premier League titles and a record seven FA Cups during his near 22-year stint at Arsenal but recent seasons have seen rising discontent among the fans as the club have failed to challenge for the Premier League.
AFP Sport takes a look at who's saying what about Wenger's decision to leave the Gunners:
– Tony Adams, Wenger's captain when Arsenal won the Premier League and FA Cup double in 1997/98 and again in 2001/02, had no doubt about his old boss's place in the London club's history.
"Thanks for everything Arsene. Move over Herbert (Chapman), Arsene Wenger the greatest Arsenal Manager," Adams wrote on Instagram.
– Thierry Henry, Arsenal's all-time leading goalscorer who was signed by Wenger, praised the manager's ability to inspire players and said he hoped the current side would now go on to win the Europa League — the club are in the semi-finals.
"He used to make you believe you were the best player in the world," Henry told Sky Sports. "Let's not get lost in celebrating the end of his era. The team has to win the Europa League, it would be an amazing achievement and Arsene has never won in Europe before, so it would be a great way to give him a good exit."
– Manchester United manager Jose Mourinho, who when Chelsea boss labelled Wenger a "specialist in failure", said he hoped his old rival would stay in football.
"I always say for some the memory is short but the real football people don't have short memories. If he is happy with the decision I am really happy and I hope he doesn't retire from football."
– Spain's Cesc Fabregas, the former Arsenal midfielder now at Chelsea, thanked Wenger for being a "father figure" to him as a young footballer.
"I will never forget his guidance and support, his tutelage and mentorship. He had faith in me from day one and I owe him a lot, he was like a father figure to me who always pushed me to be the best," Fabregas wrote on Instagram alongside a photograph of himself listening to Wenger as a young Arsenal player. "Arsene, you deserve all the respect and happiness in the world. #classact"
– Arsenal fan Jeremy Corbyn, the leader of Britain's main opposition Labour Party, whose Islington North constituency is home to the Gunners' Emirates Stadium, tweeted his gratitude by saying: "Arsene Wenger, thank you for all the achievements, over such a long period, for the club I love. Three Premier League titles, the unbeaten season, a record breaking seven FA Cups and revolutionising the English game."
– Former Manchester United and England defender Gary Neville said Wenger deserved a fitting send-off after a glittering career.
"Arsene Wenger built the best teams that I played against in English Football," he tweeted. "The '98 team was Amazing. The biggest compliment is that he played football that made us change the way we played against them."
– Former Arsenal midfielder Stuart Robson said Wenger ought to have quit long before now.
"Wenger should have gone many years ago," Robson told BBC radio. "You can't take away the good things. When he came he changed the philosophy of Arsenal. He was fantastic in that period but like a lot of dictators they think they are going down the right road but even when people are saying you need to change, he wouldn't change."