By Ikechukwu Amaechi
As a tourist, your itinerary will not be deemed complete in South Africa if you didn't visit House No. 8115 in Orlando West. Any South African tour guide, even a novice, knows the significance of that modest bungalow. Its history is synonymous with the anti-apartheid struggle.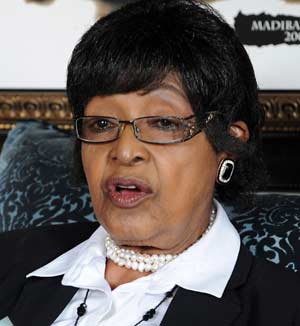 Orlando West is at the heart of Soweto, the epicentre of the struggle. So, anybody who is desirous of knowing what happened cannot ignore Soweto; there is no Soweto without Orlando West and the story is incomplete without the house where Nelson Mandela lived before his 27-year imprisonment.
In his book, The Long Walk to Freedom, Mandela said, "The house itself was identical to hundreds of others built on postage-stamp-size plots on dirt roads. It had the same standard tin roof, the same cement floor, a narrow kitchen, and a bucket toilet at the back. Although there were street lamps outside, we used paraffin lamps as the homes were not yet electrified. The bedroom was so small that a double bed took up almost the entire floor space.
"It was the opposite of grand, but it was the first true home of my own and I was mightily proud. A man is not a man until he has a house of his own."
It was to this same house that Mandela returned to for 11 days after his release from Robben Island in 1990.
And he remembered. "That night I returned with Winnie to No. 8115 in Orlando West. It was only then that I knew in my heart I had left prison. For me No. 8115 was the centre point of my world, the place marked with an X in my mental geography."
The house itself is on Vilakazi, the iconic street that has the enchanting history of housing two Nobel Peace Laureates – Mandela and Archbishop Desmond Tutu.
As the Cable News Network (CNN), puts it, "Not many streets have been home to a Nobel Laureate – and even fewer have been home to two. Yet, Vilakazi Street in the heart of bustling Soweto has been exactly that, housing both South African leaders Archbishop Desmond Tutu and Nelson Mandela."
Today, South Africa is one of the few African countries making a kill from tourism. Vilakazi Street is the reason especially since after the 2010 World Cup.
The area is also significant because that was where students took on the apartheid police on June 16, 1976, and where the set of photographs of the 12-year-old dying Hector Pieterson was taken, an image that came to symbolise the repressive actions of the government. Till date, the Hector Pieterson Museum and Memorial, remains another iconic landmark.
According to the Mastercard Global Destination Cities Index, the number of visitors to Johannesburg increased by 300,000 since 2010.
In fact, CNN reported that 4.3 million people visited the city in 2014 spending $3.2 billion, up from the $3.1 billion tourists spent in 2012.
When the news broke that Nomzamo Winifred Madikizela-Mandela, popularly known as Winnie, had died at the age of 81, my mind went to House No. 8115, built in 1945, which I had visited thrice.
Mandela moved into the house in 1946 with his first wife, Evelyn Mase, whom he divorced in 1957.
In 1958, Winnie, who became his second wife, moved in but for a very short period, having been forced to go underground in 1961, as his role in anti-apartheid struggle became all-consuming, until his arrest and imprisonment in 1962 after the Rivonia trial.
Winnie, herself imprisoned several times, effectively took over the battle, using the house where she lived with her two daughters, Zinzi and Zenani, as the rallying centre of the struggle until she was banished to Brandfort in 1977, where she remained under house arrest until 1986.
The family continued to occupy the house until 1996, when the Mandelas divorced and it was turned into a public heritage site.
In March 2009, shortly before the 2010 World Cup in South Africa, the Mandela House was restored and re-opened to the public.
Recounting memories of living there as she led anti-apartheid stalwart Ahmed Kathrada, Winnie wrote in the visitors' book: "Today is historical to the family, the preservation of our legacy could not have been better retained for posterity."
In his own reminiscence, Mandela, who wasn't present, said in a short speech read by his daughter, Zinzi, that: "The heritage of this humble dwelling is of course one of struggle and sacrifice, but it is also one that demonstrates the ability of the human spirit to triumph over adversity.
"It is the heritage not only of one family, but that of all the people of Soweto and of our nation, who refused to bow down to tyranny or succumb to bitterness."
Visitors to the three-roomed bungalow, with concrete floors and corrugated roof view in awe a display of cabinets filled with documents and certificates. There is a kitchen dresser which rests against the wall, a painting of Mandela, while a large photograph of Winnie ironing is visible from the front door. An old cast-iron coal stove sits against the wall of what was the kitchen.
But even as she left the iconic house, Winnie never left Soweto. She lived with the people and died amongst them.
She had her faults. She was human. But nobody can take the credit away from her that the anti-apartheid struggle was also her life.
As Zimbabwean philanthropist, Tsitsi Masiyiwa, said on twitter, she was a hero who had soldiered through immense adversity, stumbled and paid heavily for her mistakes, despaired but kept going.
Little wonder that the world is standing still, literally, in mourning the woman who in every sense can be called "Mama Africa."
Jacob Zuma, former South African president said that much in a glowing tribute on Wednesday when he said Winnie was a leader who saw it all – from being detained, tortured, exiled within the country and harassed perpetually.
"Those who were young and fighting, they looked up to her. We've lost a mother and we feel the pain."
A sentiment which Bishop Tutu echoed. "She refused to be bowed by the imprisonment of her husband, the perpetual harassment of her family by security forces, detentions, banning and banishment. Her courageous defiance was deeply inspirational to me, and to generations of activists."
It is equally a measure of the global recognition of her struggle that the entire African continent and indeed the global community is mourning her death.
Perhaps, the greatest tribute is that of Professor Njabulo Ndebele, chairman of Nelson Mandela Foundation, who wrote: "She was a member of a generation of leaders which survived the most brutal period of state terror in apartheid South Africa. All South Africans are indebted to Mama Winnie, whether they acknowledge it or not. From the witness of her life, we knew we could stand tall; we knew also we could falter and stumble. Either condition was an affirmation of life. Her cry was our cry, and in 2018 we can say we did triumph."
And need I say that her spirit of resilience, perseverance, fortitude, was nurtured at House No. 8115, where she moved into in 1958, a starry-eyed, head-in-the-clouds 22-year-old social worker and came out a lion-hearted woman.S
South Africa, Africa, and indeed the world will continue to remember her with fondness.
Ikechukwu Amaechi is the MD/Editor-in-Chief, TheNiche on Sunday newspaper, Ikeja, Lagos.