Arsenal manager Arsene Wenger said Wednesday he hoped "complicated" political relations between Britain and Russia would not spill onto the football field when his side face CSKA Moscow in a European tie in London.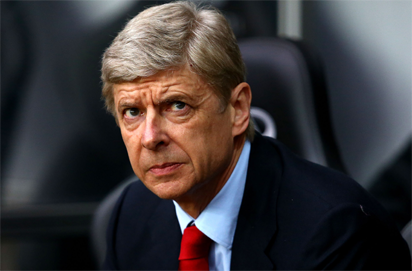 Britain has suspended high-level diplomatic contact with the Russian government after a former Russian spy Sergei Skripal and his daughter Yulia were poisoned with a nerve agent in the southern English cathedral city of Salisbury on March 4.
UK authorities have said the Skripals were poisoned with the Soviet-designed nerve agent Novichok and that it was "highly likely" the Russian government was behind the attack.
The crisis has led to a further deterioration in already strained relations between Russia and western nations, with both sides expelling scores of diplomats.
Even before the poisoning incident, concerns had been raised over the safety of England fans at this year's World Cup in Russia.
Russian hooligans were involved in several clashes with rival supporters during the 2016 European Championships in France, with both England and Russia threatened with expulsion from the tournament because of their fans' violence.
North London club Arsenal are at home to CSKA Moscow in the first leg of a Europa League quarter-final tie at the Emirates Stadium on Thursday.
Wenger, speaking to reporters at Arsenal's training ground in London Colney, said the overall state of Anglo-Russian relations had not been a talking point for his squad.
"No, it hasn't honestly. Nobody knows really what's going on," Wenger told a news conference.
"It looks more as if diplomatic relations between England (Britain) and Russia are a bit complicated."
The veteran French manager added: "I just hope it won't affect both ties (the second leg is in Moscow) and that it will not affect the supporters. Nor for the Russian people who come over here and not for English people who want to travel there."
– 'Leave politics' –
Some 500 away fans are expected at the Emirates and Viktor Goncharenko, the CSKA manager, said he hoped the focus would remain on football.
"Let's leave politics for policy-makers," said Goncharenko, speaking via a translator, in answer to a question from AFP during a pre-match press conference at the Emirates on Wednesday.
"We are football coaches and players and we came here to play football," he insisted.
"Let's think about football, do our best to win tomorrow's match and not go into the details on politics, please."
– 'Peaceful Russia' –
Goncharenko also played down concerns about the safety of fans at the World Cup by adding: "You are welcome to Russia for the World Cup, you can see it is a very beautiful country — a very peaceful and safe country."
Meanwhile a spokesman for London's Metropolitan Police told AFP they had undertaken a "comprehensive risk assessment" of the tie.
"There is a proportionate policing plan in place for the Arsenal v CSKA Moscow Europa League match on Thursday, 5 April," the spokesman said.
"As with all high-profile European fixtures, officers will be monitoring any intelligence related to the game and appropriate resources will be allocated to the match based on a comprehensive risk assessment."
Recent diplomatic tensions increased last month when British Foreign Secretary Boris Johnson compared Russia's promotion of the World Cup to the way Adolf Hitler tried to manipulate the 1936 Berlin Olympics.
During an appearance before Britain's Foreign Affairs Select Committee, Johnson agreed with a lawmaker's suggestion that Russian President Vladimir Putin would use the World Cup, which runs from June 14 to July 15 "as a "PR exercise" to gloss over a "brutal, corrupt regime" in the same way Hitler used the Olympics as propaganda for his Nazi regime.
"I think the comparison with 1936 is certainly right," Johnson said.
"I think it's an emetic prospect, frankly, to think of Putin glorying in this sporting event."
The Kremlin labelled Johnson's remarks as "offensive and unacceptable".