By Perez Brisibe
THE Pere of Gbaramatu Kingdom, HRH Oboro Gbarun II, has stated that the kingdom has since moved on and holds no bitterness or grudge against the Federal Government nine years after the army bombed his palace during the 2009 Amasiekumor Festival.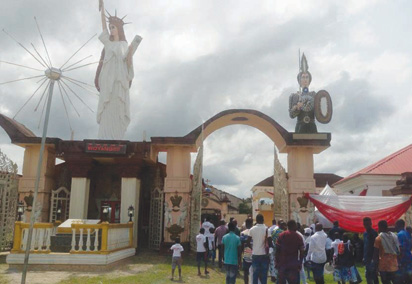 The monarch gave the clarification during the 2018 edition of the festival held at the Oporoza, hometown of wanted founding member of the defunct Movement for the Emancipation of the Niger-Delta, MEND, High Chief Government Ekpemupolo, aka Tompolo.
The event which attracted Ijaw monarchs from Edo, Ondo, Delta and Bayelsa states, had in attendance Ijaws from within and outside the shores of Nigeria as well as kinsmen of Tompolo within Gbaramatu Kingdom who converged at Oporoza for traditional cleansing and other rituals.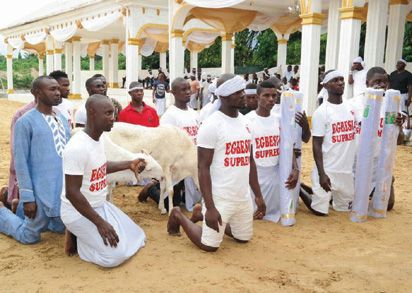 The seven days event, which started on Wednesday, March 21, climaxed on March 27 with series of cultural activities, drama and a lecture on the supremacy of Egbesu presented by an Associate Professor, Benedict Binebai.
In his presentation titled: Rebirth and reception of ancient culture and religion in Ijawland: Challenges and prospects, the guest lecturer who is also the Head of Theatre Arts Department, Niger-Delta University, NDU, warned adversaries to stop antagonising  Egbesu  which he referred to as the "Ijaw god of war, justice and salvation."
He said: "Egbesu  worship centres should not be called shrines but temples. Ijaws should hold Egbesu  strong in their belief system because it is an ancient tradition of the Ijaws that had existed long before the coming of the British imperialists."
According to him, "Everything went sour when the British came to Nigeria with their own Christian religion while condemning the Ijaw tradition and war god, Egbesu as evil.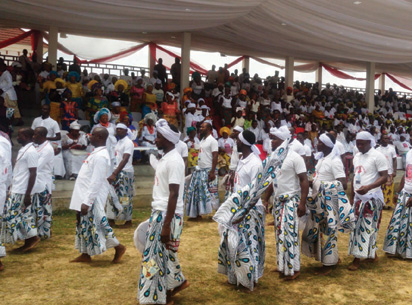 "There are many religions in the world today and Egbesu  is one of them which has protected us from several invaders in times past."
Earlier, the Pere of Gbamaratu Kingdom while reminiscing on the 2009 Gbaramatu invasion, said: "We were out dancing just like this during the 2009 edition of the Amasiekumor festival when the army came and bombed the palace."
Though a new structure has been built to serve as the palace, the monarch noted that they have since moved on and nurse no bitterness against the Federal Government.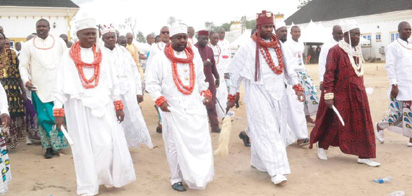 He said: "After the destruction, the Gbaramatu people sued the Federal Government and we won that case with the court ruling against the government asking them to pay damages to the community to the tune of N99.9billion, but till date, the government is yet to comply with that ruling."
On the last day of the event, 20 subjects of the kingdom received various traditional titles while others, including Chief Godspower Gbenakama, the kingdom's former Ibibenimowei (chief mobiliser) had his title elevated to the Bebefieowei (spokesperson) of Gbaramatu Kingdom.