Lagos – The Secretary-General, Yoruba Council of Elders (YCE), Dr Kunle Olajide, has confirmed the death of YCE's President, Chief Idowu Sofola, a prominent Nigerian jurist, Bencher and former President of the Nigerian Bar Association.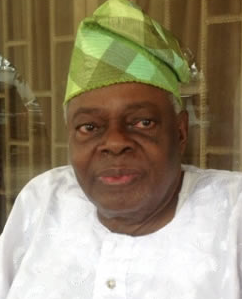 Sofola, who died on Friday night in Lagos at the age of 84, took over from retired Maj.-Gen. Adeyinka Adebayo, who passed on in 2017.
Sofola, who was born on Sept. 29, 1934, he was the first black to be appointed the Secretary of the International Bar Association (IBA) and was a prominent member of the Ikenne Social Circle and the Obara Ruling House for the Alakenne Royalty.
Olajide said on telephone on Saturday that the YCE was grieved and shocked by Sofola's death, who he said, was not ill or bedridden.
"I spoke with him few days ago, congratulating him on the appointment of his son as a high judge and we were planning an event to host him.
"The icon is leaving us at a critical time particularly in Yorubaland as the country prepares for the 2019 general elections.
"He was an intelligent man of Yoruba extraction and the vacuum he left behind will be difficult to fill.
"It is great shock to me and YCE; a strong advocate and believer in true federalism, brilliant lawyer and defender of human rights and democracy," he said.
Olajide, who said he was leading a delegation of YCE headquartered in Ibadan, to the Ikenne home of the Sofolas in Ogun, added: "His death is terrifying."
He condoled with the immediate family, Ikenne people, Ogun State and the Yoruba on his demise and prayed that may Allah grant his soul rest. (NAN)