By Egufe Yafugborhi
GOVERNOR Nyesom Wike and management of the Industrial Training Fund, ITF, yesterday charged beneficiaries of the 2017 National Industrial Skills Development Programme (NISDP) against selling off their starter packs and abandoning the opportunity to lead a good life.
The governor and the ITF, key collaborators on the programmed gave the charge in Port Harcourt, Rivers state, during closing ceremony of 2017 NISDP where 310 beneficiaries from across the country received certificates and starter packs after three months specialization in Welding and Fabrication, Tailoring and fashion, as well as Plumbing and Pipe Fitting.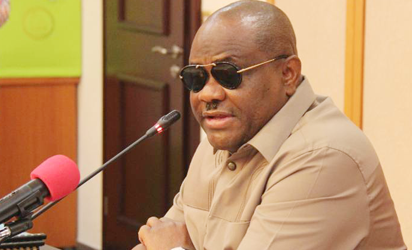 Director General of the ITF, Sir Joseph Ari, told the beneficiaries, "Don't make the mistake of selling the various machines you have been equipped with to compliment your skills in establishing you to grow into successful entrepreneurs and employers of other unemployed Nigerians"
"Today's event marks a watershed since we commenced implementation of  the NISDP as we have taken a step further from merely training and equipping youths with knowledge and skills to providing beneficiaries with starter packs"
Governor Wike' represented by the Lawson Ikuru, Permanent Secretary, Ministry of Empowerment and Employment Generation, told the beneficiaries; "If you were hungry to greatness, your taste has been watered by ITF through the empowerment. You have a duty to make the best of it.
"As graduants today marks a new dawn in your life as you have been thought how to fish rather being fed., if only you will commit yourself to the training experience as conceived. Don't misuse this opportunity. As a state committed to empowerment of the people, we also enjoin IOCs and multinationals to show more commitment to skills development."