By Victor Ahiuma-Young
Lagos—Organized labour, yesterday, warned that irrespective of several challenges facing the country, it would resist any illegal and undemocratic takeover of government in Nigeria, saying it was disturbed by some subtle insinuations from some quarters that the military would  venture into the politics of the country.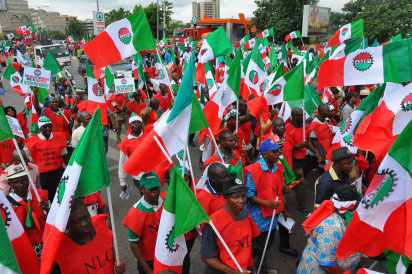 Speaking through the  Association of Senior Civil Servants of Nigeria, ASCSN, labour cautioned those mooting the idea to desist  from throwing Nigeria into anarchy.
ASCSN 's position  came on the heels of reports credited to the Deputy Senate President, Ike Ekwueremadu, during a debate on the floor of the Senate, in respect of the political killings in parts of the country, where  he allegedly stated: "who says that the army cannot take over in Nigeria. It is possible."
In a statement issued in Lagos, ASCSN President, Comrade Bobboi Bala Kaigama, and the Secretary-General, Comrade Alade Bashir Lawal, contended that any takeover of government by military again would take the country 50 years backward.
The statement said: "It is common knowledge that since the military toppled the democratically elected government of Sir Tafawa Balewa in 1966, suspended the 1963 Federal Constitution and imposed a unitary system of government, the country's growth has been stunted. We are also aware that all democracies in the world including that of the United States of America, Canada, Europe, etc, are not perfect but are still evolving and being improved upon."
"The shortcomings being experienced in building democratic institutions in Nigeria were not peculiar and that with time, some of the flaws would be rectified.
"Thus, under no circumstances should individuals, no matter how highly placed, should begin to hint of military takeover of government in Nigeria." This is because most of the social dislocations we experience today, such as corruption, deterioration of power supply, collapse of railway, basterdization of the education system, destruction of the Civil Service, etc, were exacerbated by military dictators.