…Samsung, LG, Whirpool lead market share
By Princewill Ekwujuru
Washing machine producers are beginning to position their products with customer-centric innovations in a bid to improve customer experience and increase their market share.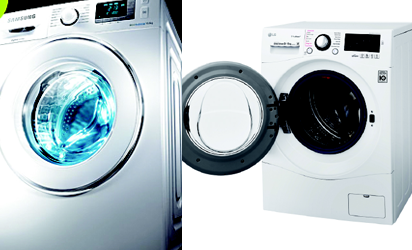 This innovation-battle for market share has transformed washing machines into a technological work of art.
The competition is reflected in the increased focus on multiple features and aesthetic appeal which include, designs, auto optimal wash, eco-check, size and smart control, which allow customer remotely control and monitor the washing machine using an App from their smartphone.
Other innovative features include automatic detergent dispenser, SteamCare function, touch screen, TwinDos system and Cap Dosing system.
The TwinDos system is an automatic liquid dispensing system that guarantees perfect cleanliness at the optimum time during the programme, while the CapDosing system is a special treatment item by capsule placed into fabric conditioner compartment. The appliance dispenses the contents at the perfect point in the washing process.
Others are Vibration  Reduction Technology (VRT) capacity, energy efficiency, spin spe-ed, honeycomb drum, Load weight sensing, ultra-quiet operation, Super Speed, which short-ens washcycles to 30 minutes from 60 minutes.
The major contenders for the washing machine market are Samsung, LG, Whirlpool, Miele, Panasonic, sharp, Hisense, Hotpoint, Grundig, Indesit, Beko, Hair Thermocool, Scanfrost, Polyster and others.
Vanguard Companies and Markets, C&M findings  show a growing market for washing machines driven by increased population and widespread perception of washing machines as necessary home appliance.
This led to introduction of washing machines in  various sizes and capacities designed to suit customers' specific need and requirement. There is also the top load and front load washing machines, C&M noted.
However, C&M also discovered that there are cheap machines that wash well and do so efficiently, and more expensive machines that wash better with more features.
C&M Findings reveal that the washing machine market is divided into manual and smart washing machines.
Like in the other home appliances market, C&M noted that preponderance of  imported fairly used washing machines,  have heightened competition in the market.
Challenges
Washing machines like other home applances have  challenges, including use of wrong washing detergent for front loading washing machine. Also, when the washer door  is not  locked, the machine  trips  power and jumps around. If the machine stinks. The washer is leaking water, washer would not finish circle.
Consumers' view
A customer, Nwagbo Kenneth, who operates a dry cleaning outfit, Lord's Dry Cleaning Services, at Idimu, Lagos, said:  "Samsung's newest release has generated lots of hype among consumers. The WW9000 does just about everything you could possibly want from a washing machine, except actually unloading the laundry and hanging it out.
Features such as Auto Optimal Wash, Smart control and Eco check, make this washing machine a real contender in the field of innovation in laundry care. Samsung has specifically designed features and functions to make hectic lifestyles easier whilst looking incredibly stylish in the process."
According to another consumer, Benjamin Nwosu, a laundry agent who operates at Iyana Isasi, Ojo, Local government area:"Samsung and LG are leading the way in laundry care technology with innovation and modernisation as the main focus.
With these latest advancements who knows what a washing machine may be able to do in 10 years' time? There is even talk of a waterless washing machine."
"If that is not enough to satisfy you, smart control infused into washing machines allows you remotely control and monitor your washing machine using an App on your Smartphone. You can instantly start or pause wash programmes and keep an eye on cycle selections, remaining time and finishing alerts when the cycle is complete," he said.
Julius Adeoye, who also runs a laundry service company, Winners Services, Satellite Town, Lagos,  said another contender for laundry innovation is the Miele range. "Its Power Wash system provides your clothes with a power shower for faster and more economical cleaning."