By Victor Ahiuma-Young
AS Nigerians especially public sector workers in Nigeria eagerly look ahead to September, where a new national minimum wage is expected to be announced, former President of Nigeria Labour Congress, NLC, and immediate past governor of Edo State, Comrade Adams Oshiomhole, has warned that wages alone cannot transform into a decent life.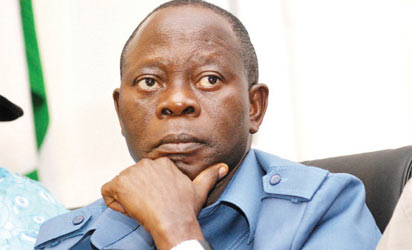 Comrade who spoke at the 40th anniversary celebration of NLC, said: "Contrary to my earlier thinking when I was much younger that what the movement needed was to perfect the act of persuasion and negotiation and where that did work, to militantly challenge private capital and even the state to ensure that we had a living wage and all those benefits, looking back I realized that what really determine the quality of life is not so much the amount of money that is transferred to you. What really determine the overall quality of life of citizens is about all the other facilities available beyond the world of works.
Your wages will not transform to a decent life if the health sector is hopeless, lecturers spend more time on strike than in the classroom and education is privatized and the ladder for upward mobility is destroyed. I have come to the conclusion that those who are in power will never govern according to your own values. The position they take or the policy choices  they make are not the results of errors of judgment.
They are conscious decisions taken in order to ensure that a particular class gets more. So, government and governance is a basic act which decides who earns what and gets what. Placards can moderate and force them to go back and restrategise. But placards will not change their value system, rather, they will go back and strategies on how best to continue to dominate and use the instrument of state to enrich the rich.
Many of our politicians simply lack the capacity to engage the people which explain why rigging has continued to prosper. A system can only continue to flourish only to the extent that those who are negatively affected by that system chose  to console it.
The day men and women rise in unison to challenge an oppressive order that will be the beginning of the end of that order. I also know that there will be no day when men and women who are oppressed will agree to fight against oppression. If it is one man that believes that there should be a fight, let him stand up and be counted because as he moves on, somebody else might join and over time, a movement is formed.
The challenges of leadership are to inspire civil confidence that things are possible. I say to people that if as a factory worker who had worked in the most subordinated    position could be a governor, those of you who have better background could    be president of this country. We should not pursue only as an end in itself.