ENUGU—Governor Ifeanyi Ugwuanyi of Enugu State has directed the immediate re-building of the 72 shops at the Kenyatta Timber Market, Enugu, which were razed by fire over the weekend, as a result of power surge.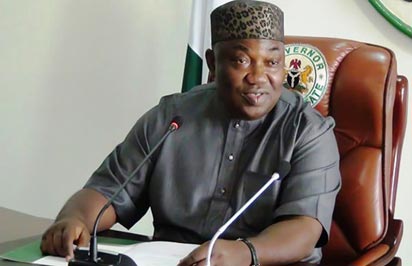 Speaking when he visited the market for the second time in company of his deputy, Mrs. Cecilia Ezeilo, the commissioner for works and infrastructure, Engr. Greg Nnaji, the Executive Secretary of the State Emergency Management Agency, Mrs. Nkechi Eneh, among others, Ugwuanyi also promised to assist owners of the shops with the sum of N7.2 million to enable them restart their businesses.
The governor, who sympathised with traders over the unfortunate incident, said that he had to end the meeting of the State Executive Council, EXCO, when he received the news of the fire outbreak to visit the site and ensure that adequate intervention was made to put off the inferno.
Directing that work should commence immediately, after approving and releasing the N14.68 million budget estimate presented by the chairman of the Kenyatta Timber Dealers Association, Mr. Levi Obi on behalf of the affected traders for the rebuilding of the 72 shops, Gov. Ugwuanyi declared: "I am here to wipe away your tears".
He reassured the affected traders that his administration will do everything possible to ensure that they remain in business, saying: "When I first visited here on the night this unfortunate incident occurred, I was touched when one of the affected traders told me that he was going back to the village. But I told him you will not go back to your village because of this challenge".
Ugwuanyi also wished the traders a bountiful success in their new investment.