Rafael Benitez says things have to change at English giants Newcastle United if they are to reward their devoted fans with trophies after decades without silverware.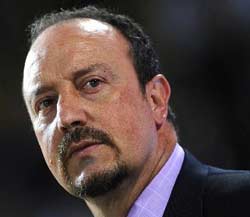 The 57-year-old Champions League-winning coach has stuck with the Magpies even though his demands for new blood has constantly been ignored by controversial owner Mike Ashley.
Newcastle's mid-table position is not as comfortable as it appears as they are only four points above the relegation zone with their next match a six-pointer against fellow strugglers Huddersfield on March 31.
"We have to change things," Benitez told The Times in Alicante where his squad are on a training camp during the international break.
"I came here with the idea to compete and to create a strong team and a strong club, to compete every year.
"What we have to do if we stay up is improve.
"The way Newcastle were doing things before I arrived doesn't mean they were right, because they were going down.
"Now we have had the chance to go up we cannot make the same mistakes again."
Despite hovering near the relegation zone, Newcastle attract the seventh highest average crowd in the Premier League with attendances of over 51,000.
Benitez, who has twice been named UEFA's coach of the year, said he had stayed in his post despite misgivings because of the club's enormous potential even if they have not won a trophy since 1955.
"When I said I wanted to stay I could see the potential for this club to be in the top 10 or even higher, but it depends on consistency," said Benitez.
"You have to have a structure. Everybody has to be organised.
"Can we win trophies? We would need time, but you never know in the cups.
"To compete and be capable of winning something, you need to have the plan and the process. Everything has to be… not settled down, that's not the right phrase, but more clear."
Benitez, who was bemused by the timing of an offer to extend his contract in January when he wanted Ashley to spend money on players instead, says this season has been a trial rather than a pleasure ride.
"Have I enjoyed being Newcastle manager? I enjoy it when we are winning," said Benitez, whose family have remained in Liverpool.
"I like to do things well and when you see something is right, I'm really proud.
"But it's difficult to enjoy it when you are suffering all the time because you have to win and then you lose.
"Have I enjoyed this season? No, but maybe the word 'enjoyment' is different in English.
"I'm really pleased with my job. I like it. But enjoyment is when you score eight goals in the Champions League against Besiktas."
Subscribe for latest Videos