By Johnbosco Agbakwuru
PIONEER President of Nigeria Labour Congress,  NLC, Alhaji Hassan Sunmonu,   has berated the ministers and special advisers of President Muhammadu Buhari for alleged  bereft of ideas and innovations.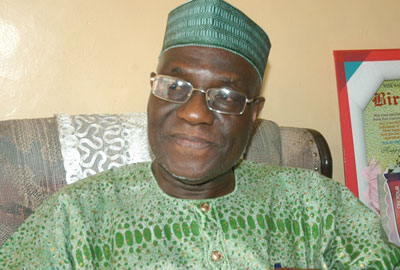 According to him, what President Buhari has as technocrats and advisers are people he described as mere Buharists who lack the technical know -how to move the country forward.
He said: "Some of the so called technocrats in the present   government and advisers of Buhari are mere Buharist, they cannot move Nigeria forward.   So, NLC and other civil society organisations across Nigeria must fight those people who want to dwarf Nigeria and turn its citizens to slaves."
Sumonu who Spoke at one of the events  to mark the NLC 40th anniversary in Abuja, on the topic: 'The Future of the World of Work', lamented that most of the socio-economic cum security problems facing Nigeria were as a result of unemployment, alleging that government's reactive nature instead of being proactive was evidently Nigeria's problem.   He said: "Education, health, housing and industries are core to socio-economic development of any country.
And these are areas that can generate millions of jobs for Nigerians. Most of the socio-economic and security problems facing Nigeria is as a result of unemployment and this is because of poor or reactive socio-economic policies of both the present government and the past ones. We cannot prepare for the future of the world of work if we don't massively invest in new technology through research for a viable industrial development.
"Look at Ajaokuta Steel. No country can  industrialise without a viable steel industry. We have been told that Ajaokuta Steel has been built up to 90% and then they want to put some money there and sell it to their friends in the name of privatising our national asset. NLC, Nigeria Civil Society organisations and every Nigerian should oppose any attempt by anybody or any government to privatize Ajaokuta Steel and other industries in the country.
We should resist it because it is unpatriotic, unpardonable, unreasonable and unforgivable.