…indigenes lament magnitude of destruction
…exposed to vagaries of weather
…solicit govt support
YENAGOA—INDIGENES of Biseni Clan in Yenagoa Local Government Area of Bayelsa State are still counting their loss following a violent rainstorm that rendered several families homeless.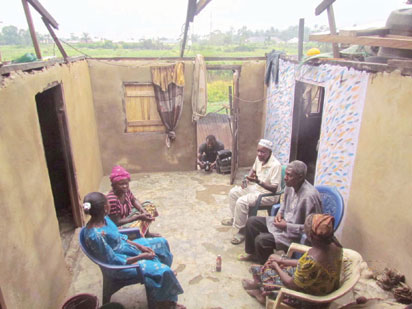 Also schools, churches, farmlands and about half of the power infrastructure in the area were not spared by storm which swept through the area, a predominantly fishing and farming enclave penultimate Monday.
NDV findings revealed that the locals had no inkling that nature was about to unleash its fury on them that fateful day as they went about their normal duties.
Though no life was lost, trouble, it was learned, started at about 4pm when a gentle shower suddenly turned into a raging storm leaving in its trail pain and misery for the people, many of whom are now at the mercy of the weather.
Narrating their ordeal, the paramount ruler of Kilama community, Chief Difference Nemigha said: "We have never experienced something like this before. I am 60 years. Our people have been rendered homeless, electric poles broken down, cassava and plantain farms all damaged. We need government support. They should find a way to send us relief materials; we are dying in pain."
Unquantifiable destruction—Monarch
"We thank God no life was lost. It happened around 4:00pm. What we could describe as a similar incident happened some years ago, but it was nothing compared to this one. The other one removed the roof of only one building. Since then, we never had such experience until this one. I have asked the community's secretary to take inventory of all affected buildings, farms and infrastructure (private and public). He is still on that task so we cannot give you the exact figure of damaged or affected property for now.
"The member representing Biseni/Okordia/Zarama Constituency in the Bayelsa State House of Assembly, Hon. Gentle Emela and the member representing Yenagoa/Kolokuma/Opokuma Federal Constituency, Hon. Douye Diri who came for an on-the-spot assessment of the damage in the area were taken aback by the level of destruction caused by the rainstorm."
Also speaking, Godhelp Okorobia said: "We were in a family gathering. There was a sign of little rain and, within a short while; this storm started. We were still unaware of what was to come. My father's house was opposite where we were gathered. The next thing we saw was the roof of my father's house being removed.
"The violent storm continued for a while and we were trapped until after it subsided before we came out from the hall. As we came out, we saw everywhere scattered, electric poles; everything off. We were confused and helpless. People living in the affected buildings have been rendered homeless including seven of my tenants. My properties, including roofing sheets and ceiling, have been destroyed."
We're helpless—Widow
Seventy-year-old Madam May Zuku, a widow whose home was affected while narrating her experience said: "I don't have hope on anyone who will come to my aid by giving me a roof over my head immediately.
"I am appealing to government and public spirited persons to, at least assist me re-roof the building so that I can have shelter. Since the death of my husband, I have been helpless. My heart is heavy and these incidents give me great concern."
A lady, Gift Otufu,  who narrowly escaped death when one of the electric poles fell right in front of where she was selling; said: "When the rain started, we were here (with her little baby) and, because breeze used to accompany rain, I never suspected that this pole will fall. But when the wind became strong, I decided to go into the house with my child. As I picked up my child and was about moving; I saw the pole as it started falling. I moved immediately to one corner and watched as it landed on the ground; scattering the zinc of my shade/table. The things I was selling, groundnut and others, were scattered and destroyed."
Cry for help
Another victim, Mr. Kanarua Pinaowei said: "As I speak, all the 10 people living in this house have been rendered homeless. We were inside the house when the incident happened. It was by the grace of God, maybe one of those miracles; nobody got a scar except the little bruises under my feet. The roof was taken over 70 metres away from the building across the road. I want to call on the relevant authorities, the government and NGOs; this is a passionate appeal to all of them. Come to our rescue, it is an emergency. We are all now homeless. Come to our rescue."
Tree-planting could have minimised damage—Environmentalist
The Environmental Rights Action/Friend of the Earth (ERA/FoEN) Bayelsa Head, Comrade Alagoa Morris who was in the area also expressed concern over the magnitude of destruction noting that the impact could have been minimised if trees were planted in the communities.
He said: "One major observation which could possibly be among the reasons the communities were seriously impacted, was the absence of trees across the Taylor Creek.  A good collection of trees would have saved the community, as they would have served as wind breakers and lessen the velocity and landing force of the wind."
Succour underway for victims
Meanwhile, Dr. Zedekiah Isu,  the chairman, State Emergency Management Agency (SEMA) said the agency had commenced an assessment of the damage in the affected communities.
Isu,  who spoke through the agency's Head of Administration Department, Mr. Torukuru Adakien, said the assessment was to ascertain the level of the disaster and the needs of the victims.