By Rose Moses
Mr. Bill Gates' visit last week was not the first neither will it be the last to the country, hopefully. But that one visit to the acclaimed giant of Africa kind of ruffled feathers. It more than ever spoke truth to governance, the type many of those holding the country down don't want to hear.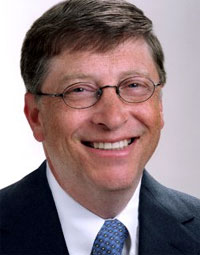 Expectedly, they reacted, mostly in ways and manner that ironically consolidate the point the second richest man on earth was making.
Gates, who is co-chair of the Bill and Melinda Gates Foundation that works to help all people lead healthy, productive lives, giving them the chance to lift themselves out of hunger and extreme poverty, was guest to Aso Villa during the expanded National Economic Council meeting, Thursday March 22, 2018.
In a powerful speech that didn't pander to any group or government, Gates was straight to the point. Nigeria will only thrive when every citizen is able to thrive, he said.
"If you invest in their health, education, and opportunities, the "human capital" we are talking about today, then they will lay the foundation for sustained prosperity. If you don't, however, then it is very important to recognize that there will be a sharp limit on how much the country can grow," he told the gathering of government elites.
From the point of view of quality of life, Gates said much of Nigeria still looks like a low-income country, adding that average life expectancy in upper middle-income countries is 75 years and 68 in lower middle-income countries. In low-income countries, it's 62. "But in Nigeria, it is lower still: just 53 years."
Nigeria, he also said, is one of the most dangerous places in the world to give birth with fourth worst maternal mortality rate in the world, ahead of only Sierra Leone, Central African Republic, and Chad.
To cap the pathetic picture, he adds, "One in three Nigerian children is chronically malnourished."
While it may be easier to be polite, it's more important to face facts, if any progress must be made.
And fact is: Nigerian government's Economic Recovery and Growth Plan (ERGP), which formed topic of discussion and which identifies "investing in our people" as one of three "strategic objectives," operates to the contrary. Execution priorities don't fully reflect people's needs but prioritizes physical capital over human capital.
To the billionaire business, if the economy must be anchored over the long term, investments in infrastructure and competitiveness must go hand in hand with investments in people.
Now, any developed mind won't need a Bill Gates to know that a people without roads, ports, and factories can't flourish, just as roads, ports, and factories without skilled workers to build and manage them are not expected to sustain an economy.
It therefore amounts to outright denial of the obvious, and a form of ingratitude to condemn the Microsoft founder, who has invested billions of dollars in the country for human capital development, for stating the well-established fact.
Only those willing to accept failure as a way of life will disparage Gates, who recently lost his first position as richest man to Jeff Bezos, founder of Amazon, one of the biggest and most popular companies on the web, for speaking truth to power.
More annoying is that some Nigerians, who have been roundly raped by government all their life, and who refused to see the point in the message, suddenly remember that Gates dropped out of school. Others asked if he is an economist to be taken serious on issues of economic policies.
Yet others ludicrously say he is now an agent of US plot to unseat President Muhammadu Buhari in 2019, among other craps.
Unfortunately, some of these people parade all manner of certificates claiming to be educated but can't see that Nigeria, with the largest youth population in the world, most of who are faced with tremendous challenges of poverty, diseases such as STDs and HIV/AIDs, unemployment and marginalization as well as exclusion in the political economy, is a time bomb waiting to happen, if this human capital isn't properly harnessed.
Gates' statement rather than being attacked, should ginger positive actions. Nigeria, indeed, has the potential to become an engine of growth, not just for the country but for all of Africa, if government should get health and education sectors right.
For now, policies to that effect isn't right and Gates, who spends billions of dollars towards improvement of the sectors, can't be cowed from saying so, more so if he can't see how his money is being used.
"As a partner in Nigeria, I am saying the current plan is inadequate. Nigeria has all these young people and the current quality and quantity of investment in these young generations; in health and education just isn't good enough. So, I was very direct," he told CNN.
So, Mr. Gates message is crystal clear: Nigeria's government investment on health and education, as well as other sectors is not good enough, which is why we are where we are today after 58 years of independence.
It shouldn't take a Bill Gates, though, for government to realise that creating  conditions, where Nigerians can reach their goals while adding value to the economy is an indisputable fact and recipe for progress.