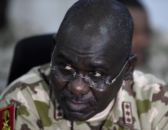 Chief of Army Staff Lieutenant General Tukur Buratai
By Kingsley Omonobi, Abuja
A major shake-up has been effected in the Nigerian Army with the appointment of a new Director of Military Intelligence, a new Provost Marshal and a new Commander of the Nigerian Army Artillery Corps.
The Nigerian Army Artillery and Infantry Corps as well as the Corp of Military Police are at the heart of the war against terrorism in the North-East and several other internal security operations in several parts of the country.
Under the new dispensation, as ordered by the Chief of Army Staff, Lt. General Tukur Yusuf Buratai, the Commander, Nigerian Army Corps of Artillery is Major General AA Tarfa.  Tarfa is a former Director of Military Intelligence (DMI).
The new Director of Military Intelligence is Major General SA Adebayo. Adebayo was until his new appointment the Director of Foreign Liaison at the Defence Intelligence Agency.
Major General AT Hamman, formerly the Provost Marshal, Nigerian Army, is the new Director of Peacekeeping Operations at Defence headquarters.
Major General MH Garba moves from Army Headquarters to Defence Headquarters.
Major General JB Olawunmi, formerly Director of Army Aviation, is posted to the Nigerian Army Corps of Electrical and Mechanical Engineering as the Corps Commander. He was one time DG NYSC.
Major General G Oyefesobi, formerly Nigeria's Defence Attaché to London, is posted to NATRAC as Commandant.
Major General AM Dikko is Director of Policy at Defence Headquarters.
Major General JAY Ishiaku is Director of Personnel Services at Army Headquarters.
Major General MO Uzohis moved from Nigerian Army Electrical and Mechanical Engineers to Defence Headquarters.
Major General AM Aliyu moves to Defence Intelligence Agency as Director, Foreign Liaison.
Major Gen HPZ Vintennaba is posted from Army headquarters to Defence Headquarters as Director in charge Psycological Warfare.
Also affected are Brig-General AA Odoba, now Acting Coordinator, Nigerian Army Aviation, Brigadier General FOE Pearse, from NARHY to Headquarters NAWC as Chief of Staff.
Brigadier General S Mohammed, from DSA to Army headquarters as Acting Director, MP(A).
Brigadier General H Ahmed is the Acting Provost Marshal of the Nigerian Army.
The appointments are to take effect beginning from the first week of April 2018.
Vanguard gathered that the shake up may not be unconnected with the threat by President Muhammadu Buhari to sanction security chiefs if any other form of abduction of school children is recorded again, as witnessed in Dapchi recently.