By Henry Umoru
ABUJA—THE Senate has begun a probe into allegations of double registration levelled against Governor Yahaya Bello of Kogi State.
Consequently, it mandated its Committee on Independent National Electoral Commission, INEC, to immediately carry out a holistic investigation and submit report at plenary for its consideration within two weeks.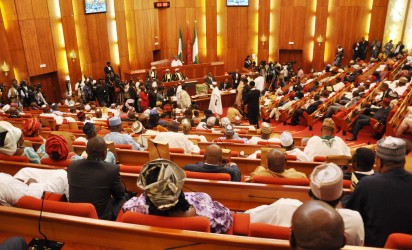 The upper chamber expressed worry on the issuance of Temporary Voters Card, TVC, to Governor Bello last week by INEC.
Resolutions of the Senate, yesterday, were sequel to a point of Order by Senator Mohammed Hassan (PDP, Yobe South).
Senator Hassan, who came under Order 43 of the Senate Standing Orders 2015 as Amended, said the investigation would help in sanitising the electoral system.
In his presentation, he said:  "There is this situation going round regarding the governor of Kogi State. It was reported recently in the newspapers that the governor was involved in double registration in the voter registration exercise.
''Again, some days or weeks after, INEC held a press conference in which they confirmed getting three members of staff of INEC sacked.
"Now, we are concerned again. It was reported again by the newspapers that he had been issued another voter card from another ward.
''We are concerned about this and I think it is very important that the Senate Committee on INEC investigates and get to the root of this matter. It is very important.
Senate President, Bukola Saraki who presided, said:  "The issue that you are talking about is one that is important because the stability of our democracy depends on the credibility of our electoral processes.
"And as such, we must ensure that the processes are always what we can be proud of, especially now that countries all over are looking up to our electoral processes."