By Peter Okutu
ABAKALIKI—GOVERNORS of the South East geopolitical zone of the country, yesterday, called on the Federal Government and other development partners including USAID, UK Aid, IFAD, FADAMA to increase allocation of agricultural facilities to farmers within the region.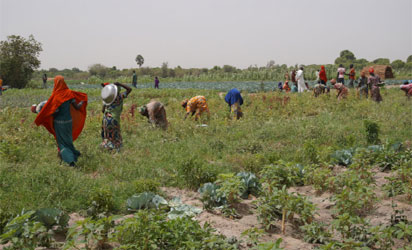 The chairman of the governors forum and governor of Ebonyi State, Engr David Umahi stated this during a two-day South East Stakeholders Forum on Agriculture, SESFA 2018, with the theme "Forging Sustainable Partnership for Profitable Farming in the South East," at Osborn La Palm Hotels, Abakaliki.
He stated that farmers and traders should not be treated alike when they go for bank facilities for their businesses as most crops would take at least six months before reaching harvest.
Represented by his deputy, Dr. Kelechi Eric Igwe, Governor Umahi identified poor funding in the agriculture sector and inadequate intervention by developmental partners as some of the major challenges facing farmers in the country, adding that what Nigerians needed at this point was not only viable economic policies but also reduction in the price of farm produce so that there could be improvement in their standard of living.
He further called on the organizers and stakeholders of the colloquium to translate the theoretical aspect of the gathering into practical initiative and investment which would bring about the needed positive impact in the area of farming and economic stability of the nation.
Umahi who called on the participants to share modern information on how to enhance productivity and development within the agricultural sector expressed optimism that farmers within the South East zone were capable of boosting the economic base of the nation through the export of agricultural produce of their states.
According to him, Ebonyi state is leading in both rice and cassava production in the country.
"A practical approach will be more valuable and appreciated than theoretical work that will end up in shelves of people. I urge us to be more concerned in solving the undulation in the prices of farm produce in the region. Everything we discuss here should help improve the living standard of the ordinary Nigerians".
In his remarks, the Director of Communication, South East Governors' Forum, Chief Mike Udah noted that the purpose of the colloquium was to ensure growth and development of farming activities across the zone and improve the lot of farmers even as the gathering was focused on implementable initiatives rather than speech making. The participants were drawn from the five states within the region.