By Hamilton Odunze
A FEW days ago, while speaking at the induction of the Nigerian Air Force's unmanned aerial vehicle, UAV,  the TSAIGUMI in Kaduna,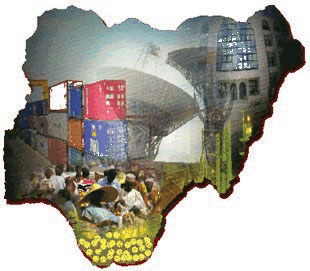 President Muhammadu Buhari said he is committed to returning Nigeria to its rightful place as a major global economic power. If the president is serious about building a viable economy, he must encourage as a matter of priority the diversification of Nigeria's economy. In a time of global economic competition, it is the only way for Nigeria to survive the turmoil of global economic uncertainty. It is crucial that President Buhari and his economic team do not believe, like most Nigerians, that oil will provide endless revenue.
It is very important that they not believe oil is the beginning and the end of economic sustainability.  In fact, the riskiest example Buhari and his economic advisers could follow is that of countries (e.g. the United States) eternally dependent on foreign oil supplies for their energy needs. This was what the immediate past OPEC secretary general, Abdalla S. EL-Badri, believed and continues to propagate. It is important that his successor, Mohammed Barkindo, develop a completely different mindset.
When Abdalla S. EL-Badri came to Abuja a few years ago, he suggested the United States would eternally depend on oil for their energy needs. He said, "The global debate on finding alternatives to oil would not yield results because of the strategic importance of oil." Back then on Sweet Crude, I wrote that the scribe's optimism was unguided. Since then, global economic and political trends have continued to show that his optimism was, in fact, misguided.
For example, while President Trump is not in favour of wind, solar, and other renewable energy sources as a means to reduce America's dependency on oil, he has, however, opened nearly all U.S waters to drilling. This action is geared towards reducing America's foreign oil dependency. It has also given President Trump the support of oil and gas developers in the United States. The need to diversify Nigeria's economy begins with the United States. Over the years, the United States has remained the largest single buyer of Nigeria's oil. But if the oil and gas industry cashes in on Trump's environmental regulation rollback, drilling in U.S waters could significantly reduce America's foreign oil dependency.
In making a case for President Buhari's re-election, Minister of Labour and Employment and Senator Chris Ngige agrees that diversification is the only sensible way to make Nigeria competitive in the current global economic climate. He also agrees that it will create middle-class entrepreneurs. Senator Ngige is right. In the general scheme of things, Nigeria did not do better when oil sold for $120 per barrel. The truth is that economies based solely on oil as the major source of their gross domestic product, GDP, do not do well regardless of how much oil is sold. The simple reason is because oil is not a micro-economics facilitator. In other words, it does not create a middle class upon which any nation's economy thrives, including that of the United States.
So, it is now clear to Buhari's administration that diversification is the only realistic path to a better Nigerian economy. But what is diversification? I don't think the majority of us have a good grasp on the concept, but we will know when it is achieved. The most noticeable outcome is that Nigeria's economy will cease to depend on oil for 95 percent of its GDP. It also means that, with a more robust and diversified economy, Nigeria will be on the path to becoming a stronger global economic power.
From the 1950s to the 1970s, Nigeria was on a viable economic path. Back then, Nigeria had a thriving mining and agricultural sector and was a major exporter of coal and tin. Even as late as 1970s, Nigeria was a major exporter of agricultural products such as palm oil and groundnuts. In hindsight, if Nigeria had continued on a diversified economic path, the race to create a middle class and win the future through innovation would have been a lot easier. But Nigeria's mining and agricultural sector failed as the oil industry began booming.
Any serious action about diversification must start with reviving these industries. However, the global economy has become a complex web of transactions. The ensuing competition is stiffer than it has ever been. Therefore, a mere reviving of these industries may not be enough, but it is a start. The Nigerian mining and agricultural sector failed because it relied on foreign equipment for support. If these industries are to be revived as part of Nigeria's diversification strategy, they must not be sustained by foreign innovation and technology. The only sensible way to rekindle and sustain these industries is local innovation, which, incidentally, has become the new global economic trend. It is why Western economies are thriving.