By Nwabueze Okonkwo
ONITSHA—GENERAL Overseer of Mount Zion Faith Global Liberation Ministries Inc (aka By Fire By Fire) Nnewi, Anambra State,  Bishop Abraham Chris Udeh, has revealed that only restructuring in 2018 and Igbo presidency in 2019 will keep the Nigerian nation from disintegrating into six different nations.
Disclosing this at a special prayer service for God to intervene in the current insecurity and bloodshed being experienced across Nigeria,  Udeh said God revealed to him shortly after a recent 40 days of fasting and prayers, which he and his members conducted, that without restructuring and Igbo presidency in 2019, Nigeria would cease to be.
He noted that it was out of fear of God visiting his wrath on Nigeria, as was in the Biblical Sodom and Gomorrah that he invited many prayer warriors to the special church service to pray hard and cool the temper of God because, according to him, God is seriously angry with the incessant killings of innocent Nigerians and visitors by both the Boko Haram sect, herdsmen and other killers around.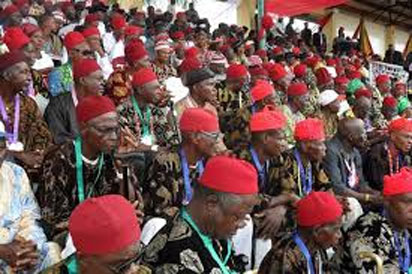 The bishop said the  All Progressives Congress, APC government should expedite action in restructuring the country, if they are serious.
He said: "Federal Government should not pretend to be working on restructuring Nigeria, while citizens are kept waiting for so long. Restructuring must be now and according to the wishes and aspirations of majority of Nigerians."
"A President of Igbo extraction should be accomplished in 2019, if Nigeria must remain one, as there is no other way true national integration and cohesion devoid of agitation could be achieved without allowing the Igbo a shot at the Presidency this time around."
He frowned at the killing of innocents souls, noting that the killings have reached a level that men and women of God at all levels had to go down on their kneels to petition God to stop for the "madness" and at the same time, not to vent His anger on Nigeria.
Bishop Udeh noted that it was unfortunate that the media remained awash every day on reports of killings in some parts of the country especially the North as if the victims were fowls and not human beings.
He was of the opinion that President Muhammadu Buhari should rather resign from his office because of security failure and not to "dream" of a second tenure as many of his handlers were said to be asking him to contest again.
"Buhari's administration is full of blood. He is not qualified to go for a second tenure. Thousands of people, if not millions, carelessly killed in his administration are crying from the land of the dead. There is blood every where. And those who ask him to come out again for a second tenure do not love him. His administration has witnessed so much bloodshed. We do not want him anymore come 2019. Nigerians must resist him at the polls", the Bishop stated.
He therefore called on the National Assembly to begin an impeachment process of the President, if he refused to resign on his own.