While President Muhammadu Buhari is yet to indicate interest in running for a second term in office, some dyed-in-the-wool Buharits are already rolling out their arsenal.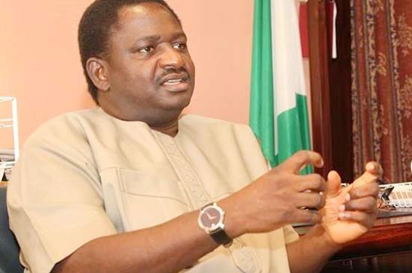 One of such is Dr Segun Oshinaga, a pastor, teacher and author of several books, who has printed different kinds of literature, designed to generate awareness on the desirability of a second term for President Buhari.
One of the pamphlets is titled Buharism : A Philosophy of Selfless Service, Sacrifice, Integrity and Character in Nation Building. Another is titled: Buhari is our Moses, He Will Deliver Joshua, and Bring us to the Edge of Canaan.
On Wednesday, March 28, 2018, Dr Oshinaga was at State House, Abuja, to present copies of the publications to Mr Femi Adesina, Special Adviser on Media and Publicity to President Muhammadu Buhari.
Truly, some Nigerians are raring to go. To them, a second term for President Buhari is a divine project. And they are praying: may God lead the President aright.
Amen, somebody!