I will not say that the Police are not on the right track. However, telling vigilante organisations to submit their weapons while herdsmen carry weapons around is unacceptable. Herdsmen should be disarmed also because it is very unsafe to disarm those protecting our communities without disarming herdsmen. I expect Civil Society Organisations to urge the Police to do a more holistic work in that regard.
*Japheth Omene, Graduate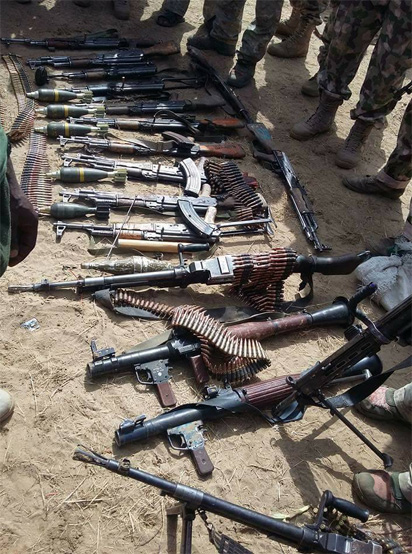 A situation where those who are supposed to bear arms are denied the right while cultists and herdsmen use arms freely is unhealthy.   Cultism is another form of insecurity that needs to be tackled.  But the government is chasing shadows.
Mrs. Abubakar Salimol, Businesswoman
We need good leadership to wage war against illegal importation of arms. If the source of entry into the country is blocked, it will go a long way in solving the problem. I appeal to our leaders to take the bull by its horns and fight illegal importation of arms and leave a great legacy for our children.  The proliferation of arms should be tackled alongside corruption.
*Mrs. Olayiwola Olabisi, Midwife
If I may ask you, what is the cost of AK47?  Is it affordable to the masses? The ordinary man  cannot afford to own a gun.  I believe a cartel is responsible for the proliferation of arms in the country because they benefit from the sale of the guns. The Police should identify how the weapons come into the country and act on it.  Making efforts to curtail the proliferation of arms is proactive in order to save the country from being wiped out.
*Demola Tunde,  Businessman
The Police should beam its searchlight on anyone suspected of importing arms into the country and street urchins, who know where to easily buy guns. Anyone found to be in possession of arms illegally should be prosecuted and jailed when found guilty.
It is unfortunate that criminals have amassed considerable power and the security agencies appear helpless.
*Raji Raheem,  Broadcaster
The law is for every body but it appears that what the Police is doing would only favour some unscrupulous elements in the society. The influx of weapons promotes crime and the Police should recommend a tight control on firearms. We  know that guns cannot be owned without a license in Nigeria. Therefore, the government should collect the weapons in the hands of criminals and even politicians.  At the end of the exercise,  the weapons collected should be destroyed.
*Kazeem Shittu, Engineer