Investigators were combing the scene of a footbridge collapse in Miami on Friday to determine how a brand new structure could fail in less than a week, as police said the death toll of six was set to rise.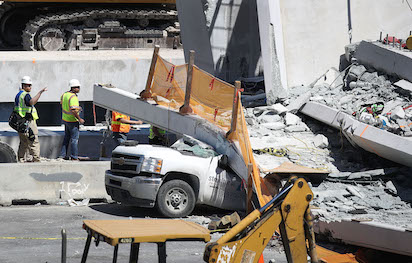 The newly installed pedestrian bridge over a six-lane highway in Miami on a college campus collapsed Thursday, crushing a number of cars below and reportedly leaving several people dead.
The Miami Herald reported that an unknown number of people were trapped underneath the collapsed walkway, which connected Florida International University to a student housing area and was erected less than a week ago.
The Florida Highway Patrol said several people were killed, according to US networks. Emergency vehicles and police cars swarmed the area.
"The cars were completely crushed," Isabella Carrasco, who said she arrived on the scene just after the collapse, told CNN.
"You could see some of the car and just a lot of debris everywhere."
She said she saw one woman get out of a car that was "just nicked" and rescue personnel performing CPR on another person in the street.
"Other than that, I didn't see anybody else.," Carrasco said.
Television imagery from the scene showed a crane being moved into position where the bridge lay in sections across Southwest Eighth Street.
The bridge was not yet in use; it was expected to open next year.
– 'Whole thing broke' –
A shaken Lynnell Collins told CNN he was driving and was about to make a right turn when "the whole thing really just came down."
"After the whole thing broke, I was freaking out. I got out of my car and me and a few other people were sprinting over there. We started helping people whose cars were at least half crushed and whoever was easily saved."
He said he saw two trucks that were "completely crushed" and other vehicles on the other side of the bridge that he could not reach.
"We are shocked and saddened about the tragic events unfolding at the FIU-Sweetwater pedestrian bridge," Florida International University said in a statement.
"At this time we are still involved in rescue efforts and gathering information."
A team of experts from the National Transportation Safety Board was en route to the scene to investigate.
FIU had only recently been celebrating the installation of the bridge, which crossed a dangerous, heavily traveled section of highway that students said had been the scene of accidents.
It had been erected using an accelerated modular building method that enabled it to go up in the space of a day.
At the White House, Press Secretary Sarah Sanders said President Donald Trump was aware of the accident and will offer "whatever support is needed."
Bridge collapses in the United States are infrequent despite rising risks associated with aging infrastructure.
The deadliest this century was the 2007 collapse of an eight-lane bridge in Minneapolis, Minnesota, which killed 13 people.