By Princewill Ekwujuru
Procter & Gamble, in partnership with WEconnect International, has pledged to empower more women entrepreneurs.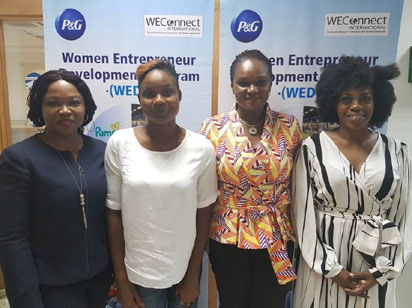 WEConnect International, is a global network that connects women-owned businesses to qualified buyers around the world. The announcement which coincides with the International Women's Day was made at P&G's corporate office in Lagos.
Speaking, at the 2nd edition of its Women Entrepreneurs Development Program, WEDP, Ihinosen Ebinum, Head of Purchases for P&G Nigeria said: "The program is aimed at achieving equal representation of men and women in an inclusive environment, where they can deliver their full capabilities. Nigeria is a country of huge potential, yet women are being systematically excluded and disadvantaged. Through this program, we aim to economically empower women with the right tools and knowledge needed to grow their businesses and offer opportunities for them to provide solutions to multinationals across the country."
In addition, Shade Ladipo, Country Director for WEConnect stated: "We are happy to partner with P&G to help women achieve their full potentials and to have a competitive edge in their businesses. We commend P&G's effort in ensuring that women are no longer disempowered, but included and supported."
WEDP aims to provide training on various technical aspects for growing business ventures, including skills and technical support required for females to succeed in the business environment. The program which is open to all women business owners in the WEConnect International Network, women-owned businesses and certified Women Business Entrepreneurs will take place in April this year across four weeks.
The first edition of the WEDP, P&G successfully trained over 50 Nigerian women business entrepreneurs in collaboration with Accenture, Access Bank and British American Tobacco (BAT), on entrepreneurship fundamentals, human resource development.
Subscribe for latest Videos